Marwan Koukash: Salford's former owner wants to start new team in Cumbria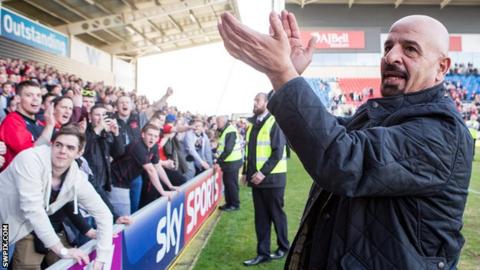 Former Salford Red Devils owner Marwan Koukash wants to create a new rugby league team in Cumbria and could call it Cumbrian Lakers.
Cumbria has three existing professional or semi-professional teams - Barrow in the Championship and Workington Town and Whitehaven in League One.
Workington played in the inaugural Super League season in 1996 but finished bottom and were relegated.
"It's a region with more fans of rugby league than football," said Koukash.
Speaking to BBC Radio Manchester, Koukash continued: "About three weeks ago I was in West Cumbria and it was amazing the number of kids walking around wearing Leeds or Wigan shirts and not wearing Manchester United or Liverpool shirts.
"I'm not suggesting we bring teams together. What I'm suggesting is we create a club there and call it Cumbrian Lakers or whatever."
Since Workington's relegation, no Cumbrian side has played in Super League, but the domestic structure in rugby league has branched out to include a professional side in Toronto, with another team in New York planned.
"At the end of the day I'm not suggesting that we won't welcome the other three Championship and League One teams to join forces with me. But I'm not going to force the issue," Koukash added.
"Never mind going to Toronto and New York, this is all fancy, sexy talk. If you are serious about growing the sport, start looking like places in Cumbria.
"Obviously the potential is there and for me, when there's potential, it's worth investing in."