Super League: Wakefield Trinity A-A Widnes Vikings
Last updated on .From the section Rugby League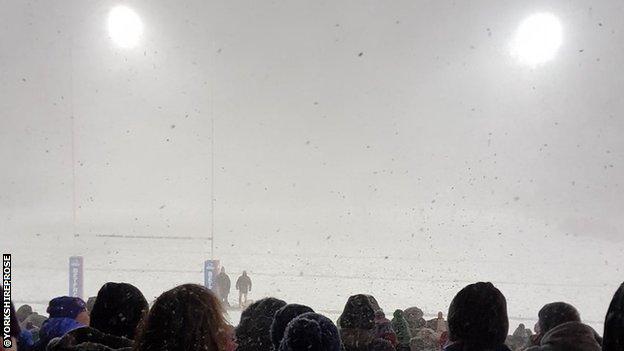 Heavy snowfall before and during the game forced the abandonment of Wakefield against Widnes in Super League after just 27 minutes of play.
The players were taken off the field by referee Liam Moore, and after consultation with the match commissioner, the game was called off.
Wakefield staff, including chairman Michael Carter, had worked to ensure Belle Vue was ready for kick-off.
No date has been set at this stage for the rescheduled fixture.
Snow across West Yorkshire has prompted Castleford Tigers to schedule a pitch inspection for 10:30 GMT on Sunday to ascertain whether the pitch is suitable for their game against Wigan at 15:30.
"It was the right decision to play the game," Wakefield head coach Chris Chester said.
"There was only a small covering of snow. We had no issues - the referee and match commissioner made the right call.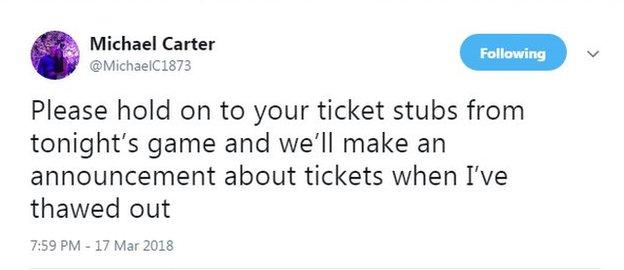 "We weren't expecting that amount of snow to all of a sudden come in. I've never seen weather like that before so it was the right decision to call it off."
Rugby Football League match commissioner David Milburn said: "The pitch was playable, the ground was soft, no players were injured or fell over so I feel justified that I made the right decision.
"I said to the referee if it gets to a position where you cannot see, bring the players off - which is what he did and that was also the right decision.
"We couldn't see the players and the medical staff couldn't see the players; it was in their best interests that we brought them all off."