Steve Gill: Castleford Tigers chief executive to step down at end of May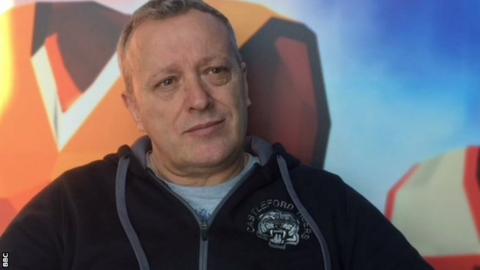 Castleford Tigers chief executive Steve Gill is to step down from his position at the end of May.
Gill was appointed to the role in 2013 and has seen the club reach a Challenge Cup final, Grand Final and win the League Leader's Shield.
"I think it's a good time really. I felt my sparkle had gone," he told BBC Radio Leeds.
"I'm really proud of what we achieved and I'm looking forward to watching the lads play without pressure."
He added: "I always wanted the fans to be proud of the club and the club to be proud of the fans. I think I've achieved that and I'd like to thank the fans for all that they've done."
Meanwhile, former Tigers full-back Jon Wells has been appointed the club's director of rugby.
Wells said: "This is an improving, progressive club with the potential now to establish itself as one of the top clubs in Super League for years to come."