Derek Beaumont: Leigh owner brands some fans' reaction to defeat 'despicable'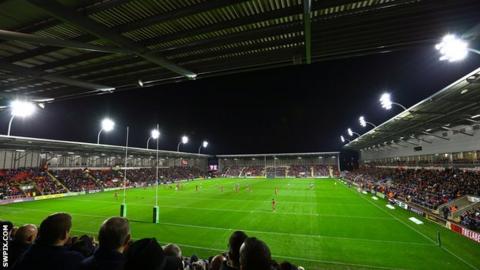 Leigh Centurions owner Derek Beaumont has branded some fans' reactions to their 32-26 home Championship defeat by Toulouse "despicable".
Fans booed the team off at the end of the match and applauded Toulouse off the field at Leigh Sports Village.
The loss was Leigh's third in four matches this season and head coach Neil Jukes resigned the day after the game.
"It's disgraceful what happened. That's not something I want any part of," Beaumont told BBC Radio Manchester.
"I was disgusted by the fans and how they treated a man who has served us well for almost 10 years. It wasn't right to end it like that.
"It is just despicable behaviour to a human being who works tirelessly and passionately for this club and deeply cares about it."
Beaumont says he has given Jukes a job as a factory manager in a business he owns after his resignation, while Kieron Purtill has taken temporary charge with the team ninth in the Championship.
"We're not talking a few fans here, we're talking a lot of vocal people," added Beaumont. "Fortunately for me, there's a lot of fans that are really passionate and understanding and care.
"I understand it's a results business but I'm privy to behind the scenes and the hard work people do and it's very sad.
"If I could have walked away, I would have done, but I'm a responsible businessman and I've committed that club to contracts it can't afford without my financial investment."