Chris Hill: Warrington Wolves captain leaves match early and sees daughter's birth in full kit
Last updated on .From the section Rugby League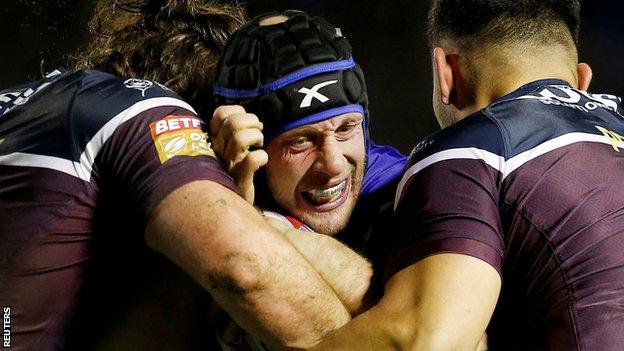 Warrington captain Chris Hill watched his daughter's birth still wearing his strip after leaving midway through his side's Super League defeat by Leeds.
The England international prop, 30, was told his wife was in labour after being taken off early in the second half.
And Hill made it to hospital to see the birth of the couple's fourth child - a baby girl called Iris.
"I put my trainers on, rushed out and went to the hospital in my full kit," Hill told BBC Radio 5 live.
The journey was made easier as his wife had attended the match and the hospital in which she gave birth was located less than a mile from Warrington's Halliwell Jones Stadium.
He continued: "I thought it was just a normal sub, but then I was told she'd gone into labour.
"I got there in time, she was having an assessment as I got there and she gave birth at 22:30 GMT.
"I was still in my kit because I had no clothes with me. I got home at about 03:00 GMT, had a shower and had to cut all of my strappings off my shoulders and my ankles."
Other sporting dads' delivery dashes
Hill is not the first sportsman to leave a match early to attend the birth of a child.
St Helens prop Alex Walmsley was replaced during a Super League game against Wakefield in September, but was too late to be present for his son's arrival.
Two months later, Wigan Athletic footballer Ryan Colclough scored twice in a match against Doncaster before he was made aware his partner was in labour - and made it "just in the nick of time" to witness his son's birth, while still in his full kit.
Warrington were beaten 16-12 by champions Leeds in their first fixture of the Super League season.
"I have never been in that situation, but it is what it is," said Warrington head coach Steve Price. "It was important Chris did the right thing, to be beside his wife.
"It was one of those things. Chris made that decision and he had our support.
"We were aware of it before the game, she was having a few contractions. I guess the timing worked out in Leeds' favour."