Salford Red Devils: Super League club could 'potentially' buy AJ Bell Stadium
Last updated on .From the section Rugby League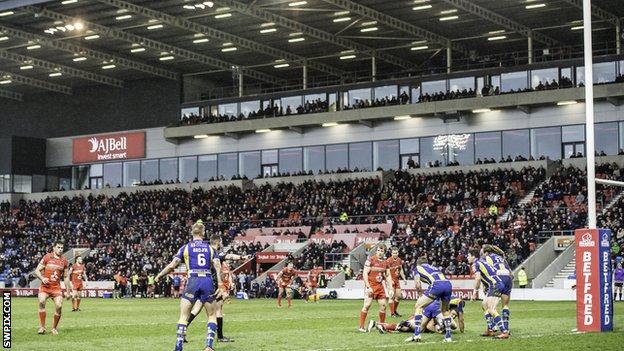 Salford Red Devils' new owners will look into the potential of buying the AJ Bell Stadium they share with rugby union club Sale Sharks.
A consortium of supporters completed their takeover of the club on Monday, ending Marwan Koukash's five years as the Super League club's owner.
Sale have previously made an offer to buy the stadium themselves but say they will build a ground is unsuccessful.
"The stadium is an event now," Red Devils director Andrew Rosler said.
Speaking to BBC Radio Manchester, he said: "It's growing all the time and every time you go, nearly every day of the week, the car park is full so it is generating revenues for the stadium.
"The challenge for us is to see whether we can get together a group to potentially launch a bid to take ownership of the stadium,"
Losing community feeling
Salford Red Devils moved to the AJ Bell Stadium in Barton-upon-Irwell for the start of the 2012 season after 110 years playing at the Willows in the heart of Salford.
The stadium is owned by City of Salford Community Stadium Ltd and opened thanks to an initial £22m loan from Salford City Council.
A further £632,000 loan was granted to the company, which the council said was "necessary" and that without it the company would default on its existing loan.
If the Sharks succeed in their bid to buy the ground, Sale owner Simon Orange confirmed Salford would continue to be tenants.
Fans of both rugby clubs have complained about poor access to the stadium, but a new access road was opened in late 2017 and the Manchester Metrolink is due to be expanded to the nearby Trafford Centre within two years.
"We've lost a lot of the community feeling towards the club since we left the Willows a few years ago," Rosler continued.
"This is now a community club and any Salford fan with a glimmer of interest in the club or anybody who lives, works, studies, plays in the city, we want to do all we can to make this club the hub of the community."