Kato Ottio, who has died aged 23, 'had potential to be a star at Widnes'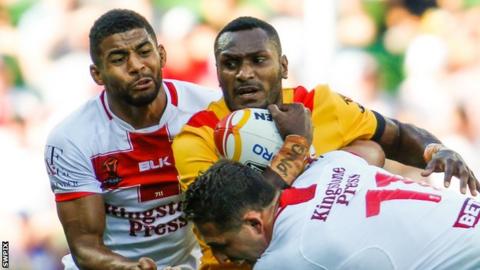 Widnes Vikings chief executive James Rule says Kato Ottio had the potential to be a star in Super League.
Ottio, who signed for Widnes from NRL side Canberra in December, died at the age of 23 after suffering a "sudden health issue" in training.
He had been due to travel to the UK next week in preparation for the start of the Super League season in February.
"He could have become a real hero with our supporters with the way he played," chief executive James Rule said.
Speaking to BBC Radio Merseyside, Rule continued: "The physicality, his raw physical attributes, would have made him a hero with our supporters.
"But there was potential for him to be a real star of the game outside of just our fanbase."
Ottio won six caps for Papua New Guinea, and scored one try in four appearances to help them reach the last eight at the 2017 Rugby League World Cup.
"We were getting updates throughout the day that were not sounding very positive. The poor guy hadn't regained consciousness and was in a critical condition," Rule added.
"It was actually another team-mate and new signing for us - Wellington Albert - who's out there and let us know.
"He sent me an email with the horrendous news last night that he'd passed away in the afternoon with the time difference there.
"We're all numb and pretty much in shock here. It happened very quickly."
The Super League club have said they will be making a private donation to Ottio's family in Papua New Guinea in order to support them.
The Vikings have also invited fans to contribute towards the donation through an online crowdfunding page, and a minute's silence will be held at their pre-season friendly against Whitehaven on Friday.