Rugby League World Cup: England hurting, but showed they are world class

By Sam Tomkins
England international on BBC One
Last updated on .From the section Rugby League
Losing 6-0 to Australia in the World Cup final will be tough to take for the England players.
But I think the squad can be pleased with their efforts when they look back at it in a few days or weeks.
At the moment they will be hurting a lot. It's tough when you have come that close to winning a World Cup and creating a huge amount of history for the sport and the country.
They can feel proud, but they will probably not realise what a great effort it was until they settle down and watch the game back.
If you look at how England have improved over the past seven or eight years to reach this stage, this is as good as we have been.
Losing to the Aussies by six points means we are definitely on the right path and just need to keep that trend going.
We are gradually building, getting better and better year on year. We are getting stronger squads, we are getting more competition for places, and that needs to continue if we are going to compete with Australia.
The Kangaroos have got the luxury of having probably 40 players who could warrant an England spot.
We don't have that in England, so we need to make sure we are pushing to develop the biggest pool of world-class players we can.
Everyone has their opinion of what a team's potential is, but we have got a strong enough side to win the World Cup.
I believe that, and think we showed that on Saturday.
England have belief and direction
Wayne Bennett has brought a vast amount of experience to the England camp. There is no coach in rugby league who has won more big games than Wayne, so he is an ideal man for the job.
Whether he will stay on, I'm not sure. But what he has done in the past two years is give the boys a lot of belief and some more direction.
Steve McNamara did a brilliant job for five years previously and set the platform for Wayne.
Wayne has added a bit more to it, so - whether it is he or someone else taking England forward - there are some great systems in place to keep putting more and more building blocks together until we are right at the top.
He has improved the team in defence, and the final was as good a defensive performance as an England side have put in for as long as I have been playing.
It was outstanding - the Aussies scored 210 points in this World Cup and only conceded 16.
We should beat New Zealand - and I want to play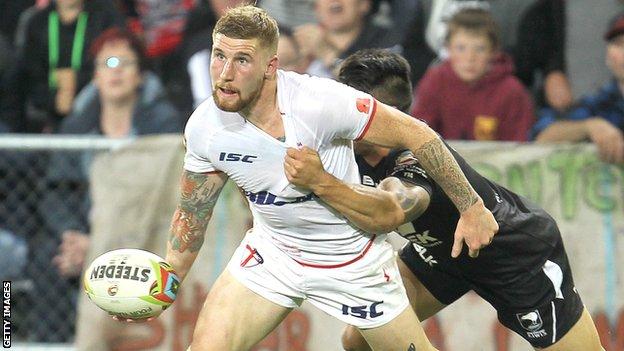 We should be confident going into the autumn Test series against New Zealand.
They have had a poor World Cup by their standards, but they will be using this as a perfect time to bounce back.
The Kiwis have got 12 months to build and will probably make a lot of changes.
They will want to set a marker down and prove to everyone they are still the second-best team in the world.
But we are already there - we are above New Zealand now and we need to make sure we stay there.
My ambition is always the same. I want to play for England. I am proud to be English and proud to pull on that jersey and represent our brilliant country.
I would love to play again. I have been very lucky to play 20-odd games with the England jersey on, but I want 20 more.
Winning needs to become a habit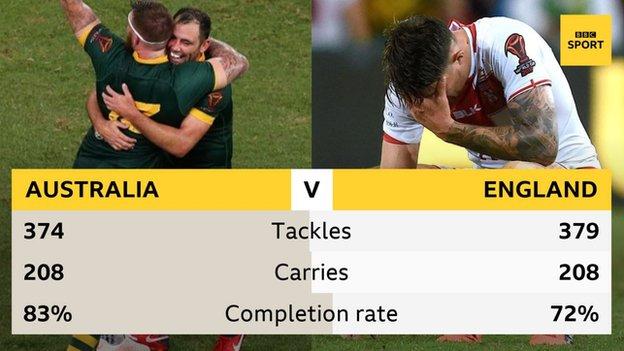 England probably weren't quite clinical enough when they had some clear-cut opportunities. You don't get many of those against the best side in the world.
We didn't make those count as much as we could have done.
The Aussies always have a good gameplan of keeping hold of the ball, and their completion was a bit better than ours.
We need to make sure we see them as the team to beat, but also have the belief that we are not far off.
It was a steady World Cup for England, getting better week on week. All the critics were out in week one and two, as you would expect, but a lot of those were silenced come the final.
Both defences were outstanding - there only being one try in the game is probably testament to both sides and their attitude to defence.
And if Josh Dugan doesn't make an ankle tap to stop Kallum Watkins scoring it is 6-6 going into extra time and everyone is speaking very differently. It would be how England have hit their peak and are the best team in the world.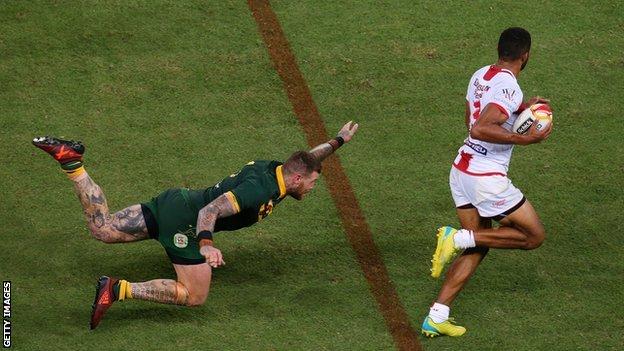 We can't be too critical of this England side and what they have achieved, because it was as close as it can be.
If we had lost by 20 points in the final we would be saying: 'Where do we go next? How do we get better?'
But we are at that top level. We just need the bounce of the ball or a bit of luck, and winning becomes a habit.
England were very much within touching distance of winning the World Cup.
The home nations can perform in 2021
I think the tournament in Australia, New Zealand and Papua New Guinea has been very successful, whether the stadiums were full or not.
There are a few very big stadiums and there were a lot of games, so I'm sure the marketing teams and the International Rugby Federation will look at that and see how it can be better.
We are always looking at the big three of Australia, New Zealand and England, but Tonga were very close to making the World Cup final and Fiji had a great campaign, both reaching the semi-finals.
Countries like Ireland did very well too, so as a whole it has been very positive and come the 2021 World Cup in England we will have the same thing.
We want our home nations to be pushing. We want Scotland, Ireland or Wales to be the Tonga of 2021.
Sam Tomkins was speaking to BBC Sport's Alex Bysouth.