Rugby League World Cup: England stars 'gutted' after Australia final loss
Last updated on .From the section Rugby League
England's execution let them down in their narrow World Cup final defeat by Australia in Brisbane, says "gutted" full-back Gareth Widdop.
The Kangaroos repelled England's spirited effort to win an 11th title.
"We sacrificed a lot to be here, with the pride we put in on the jersey, we will be back," Widdop, 28, said.
"I'm gutted. There was just that little bit of execution [missing]. We have improved a lot and will only ever keep on improving."
Graham caught up in ref-mic controversy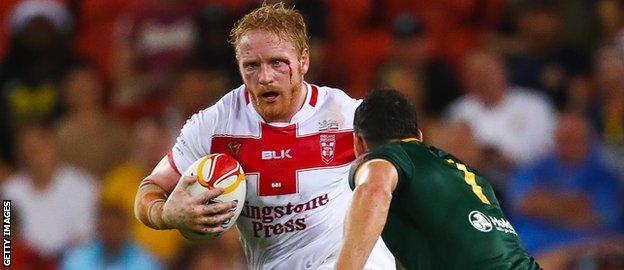 The intensity of the encounter was demonstrated by England prop James Graham when he was audibly heard to swear at an opponent through the referee's microphone.
The incident occurred after Widdop was caught with a tackle that looked high but went unpunished a few minutes before Australia were given a penalty for a similar-looking tackle by England.
"Loads of stuff gets said on the field," Graham, 32, said. "If you don't like it, turn off the ref mics.
"That's real life, real emotion out there. Stuff gets said all the time. Just because you pick it up - you want to fake reality?
"You want people to pat each other on the back? It is what it is. It's just the game. I don't even remember what I said. I shouldn't have to either. Remember that, that's real.
"I should not have to remember what I said and apologise to anyone. And I won't. It's just part of the game."
More heartbreak
Having finally put to rest the disappointment of 2013's semi-final loss by New Zealand in making the final, England added a new chapter to their book of heartbreaks with this defeat.
For Shaun Johnson's last-gasp try four years ago, read Josh Dugan's ankle tap on a free-running Kallum Watkins in 2017. It denied Wayne Bennett's side a major scoring opportunity and gave Mal Meninga's side a defensive lift.
England lost the error count tally and those mistakes proved costly in attack as they failed to score a point for the first time in the tournament.
"It's just very, very disappointing to not get the win," England forward Tom Burgess, 25, told BBC Sport after the game.
"We dug in there, at times we defended really well, but we killed ourselves a little bit and that's the story for England."
As tough as Origin: the ultimate compliment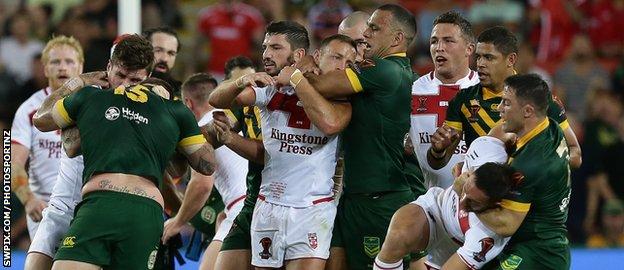 While Australia are so dominant on the world stage, there is a tendency for them to view the three-match annual State of Origin series between New South Wales and Queensland - that pits the best Australian talent against each other on state eligibility basis - as the premier competition.
Origin becomes the benchmark by which other competitions are measured, and this final compared favourably.
"That was one of the toughest games I have played in my career," said Australia and Queensland skipper Cameron Smith.
"It was somewhere around State of Origin standard - the effort and intensity," ex-Queensland boss Bennett added.
"The Kangaroos were wonderful, it is a pity there has to be a loser, the scoreboard says we lose but what did we lose? The intensity, the effort, both teams had good shape and effort."
Another former Maroon, Kangaroos boss Meninga, told BBC Sport: "That was proper Test match football. England were very good and we had to work hard. It was a bit dodgy up in the box. I rate that game right up there."
It was ironically New South Wales skipper Boyd Cordner who scored the crucial try for his country on Queensland's famous ground, where he has endured much misery in the Maroon-dominated Origin arena.
Bowing out on top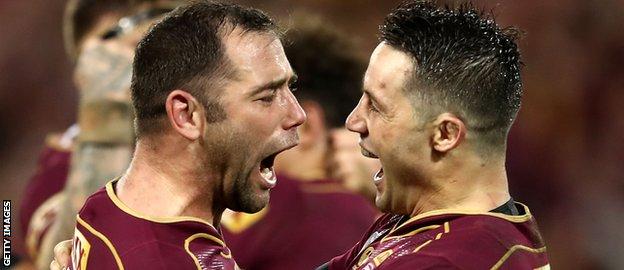 This final offered the potential to be the perfect send-off for three of the game's legends, and they played their part.
Sydney Roosters-bound Cooper Cronk had already said goodbye to Melbourne Storm in winning the 2017 National Rugby League premiership alongside team-mates Cameron Smith and Billy Slater, and the trio reunited in green and gold to bring home the World Cup.
Cronk, 33, ended his representative career after the success while Slater - a year older - said as much in his post-match interview, while Smith, also 34, is expected to call time on his career outside the club game.
"It is amazing to finally get a World Cup victory on home soil," Smith said.
"The three of us have had a remarkable year for club, state and country. If this is the last time we get to play together, what a special memory to have."
Slater and Smith were survivors of the great final shock of 2008 when New Zealand won, also in Brisbane, with the former throwing a wild pass to Benji Marshall for a famous try.
All three won medals in England in 2013, but this was their last attempt to claim a first World Cup on home soil.
The next stage for England
Bennett was brought into the England fold in February 2016 with the remit of building on the progress made by predecessor Steve McNamara and leading the nation at the 2017 World Cup.
McNamara made it to the semi-finals in 2013, but departed having led England to a Test series win against New Zealand.
Bennett's first campaign in charge was a disappointment, losing to both Australia and the Kiwis in the 2016 Four Nations.
However, the progress made in 2017 to reach the final and push the stand-out Kangaroos all the way makes the 67-year-old a popular candidate to stay on to lead England in another three-Test home series against the Kiwis in 2018.
"I would like him to stay, yeah," RFL rugby director Kevin Sinfield said. "I think Wayne and the staff have built something really special.
"Having seen what he's achieved over the last six to eight weeks is remarkable. I don't know who will make the call on his time with us but I think he's enjoyed his time with the players and that's testament to our league and our players."
England's record appearance maker Graham, who has been part of squads under Brian Noble, Tony Smith, McNamara and Bennett, is keen to continue Bennett's association.
"I'd love Wayne to continue the job he's doing," he added. "He's been great for this group, I think that's plain to see.
"I've been involved for almost a decade now and it's clear to see the improvement."
Famously, or perhaps infamously short in his interviews, Bennett was pressed on his future but gave a predictably blunt response.
"I'm not talking about that tonight," he said. "I'm not in a good state to talk about those things."
The 'Supercoach' might not be in a good state right now, but England seem to be after his near two-year stint in charge.