Rugby League World Cup: Why England's final defeat was a missed opportunity

By Tom Fordyce
Chief sports writer
Last updated on .From the section Rugby League151
Sometimes in sport the narrow defeats are far harder to take than the thrashings. Resignation passes quickly. Hope is the stuff that torments you.
England came into the World Cup final at 7-1 with some bookmakers, which is the point when a two-horse race becomes a parade with escort.
They left it surrounded by what ifs and maybes, their 6-0 defeat to Australia both far better than anyone dared expect and something that will haunt their players and supporters long into the winter nights ahead.
There are few teams as dominant in world sport as the Australian rugby league team.
They came into Saturday's with 10 previous World Cups to their name - and only one outright final defeat.
They had won 12 matches on the bounce against England, from Wembley to Melbourne, Twickenham to Cardiff. Their aggregate score across their five matches prior to Saturday in this tournament was 204-16.
And yet England, a controversial last-second loose carry away from chastening defeat to Tonga a week ago, had them frayed and heavy-legged, desperate for the final whistle, out on their feet.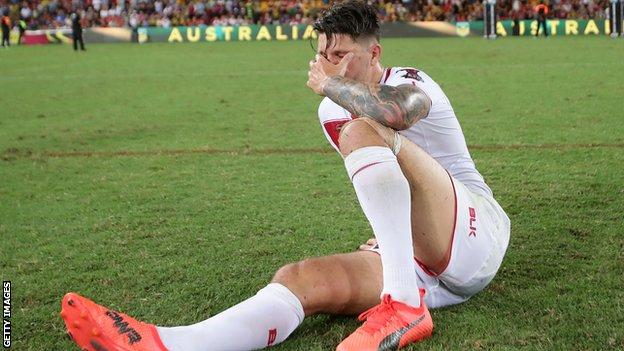 Maybe they should have done more.
Twice in the first half they spurned promising openings with a poor final pass.
With 16 minutes to go only a miraculous ankle-tap from Josh Dugan kept Kallum Watkins from haring into the right-hand corner.
With time up they broke through down the right once again, only for Jermaine McGillvary to attempt a desperate grubber when he had men free and screaming inside him.
There were others too, moments that called for clear heads and clarity but were answered instead by wrong options and flustered fingers.
With nine minutes to go, Tom Burgess lost the ball in the tackle early in a repeat set of six, 22 metres out. With the fumble went all the momentum with the men in white.
Four minutes later he knocked on when again on the charge while with two minutes to go Luke Gale chose to gamble with a chip through on only the second tackle and with the try-line 10 metres away.
England fans have been here before countless times. On a different field perhaps and with a different type of ball but with a white shirt occupied ultimately by the crestfallen.
Glorious failure is a well-worn national trope but gets no easier each time it is repeated, not least in an Ashes winter of probable discontent.
You can take consolation from plucky defeat, but no-one ever sits their grandkids down to tell them about the time it nearly happened but didn't.
In a brutal contest of attrition and exhaustion, that error count made the critical difference - 12 from England, only five from the Kangaroos.
Making chances is one thing.
Taking them ruthlessly is another, and so this was a deserved win for the home side, even if the swagger was absent for long periods and the star names were gasping for air at the end.
Awesome Australia deserve credit
When Mal Meninga took over as coach in 2015 the Kangaroos had just shipped a third loss on the bounce to New Zealand. Unthinkably for a team so dominant in an underpowered international landscape, they had lost their number one world ranking.
There was the perception that pulling on the green and gold meant less to the players than the maroon of Queensland or the sky blue of New South Wales.
Meninga, a man who understood first-hand that you could love both state and nation without cheating on the other, began the climb back to the top via the acronym R.I.S.E: Respect, inspire, selfless, excellence.
With that came a team poem, written by forward Sam Thaiday: "RISE is often said and RISE is often heard, but it's more than just four letters, it's more than just a word."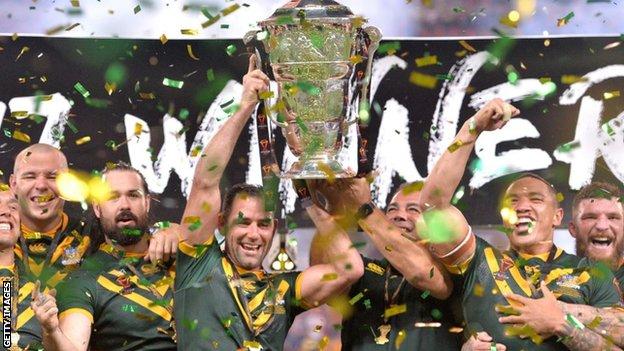 That journey culminated in Brisbane with a performance that was seldom vintage from a team laced with outstanding talents, even with injury having ruled out stellar half-back Johnathan Thurston and superstar centre Greg Inglis.
In skipper Cameron Smith, half-back Cooper Cronk and full-back Billy Slater, he has three of the all-time greats. The bonds formed between the trio at Melbourne Storm and Queensland sustained the national team through the final, the club and state game no longer overshadowing the Kangaroos but providing the foundation and inspiration.
Smith has now led the Storm to the Premiership title, Queensland to State of Origin victory and Australia to the World Cup. For all England's regrets, that is an achievement for even the partisans to acknowledge.
Perhaps the tightness of this 11th World Cup final triumph will cast Australia's accomplishments in a more flattering light too.
At times in previous tournaments the Kangaroos have appeared to be the team that can't win, even when they do.
Because victory is always expected, it is seldom eulogised.
The better they play, the louder come the caveats; after the dead-eyed destruction of New Zealand 34-2 in the previous World Cup final, there was as much criticism of the international game's imbalances as there was Australia's evisceration of a team that had beaten them in the preceding final.
At home there has been indifference as much as celebration. Even during this tournament the Australian media has seemed more absorbed by Jarryd Hayne's return to the NRL's Parramatta Eels from the Gold Coasts Titans than Meninga's selections; there were only 22,073 there for the semi-final win over Fiji in a stadium that can hold 52,000.
Rugby league has been ruled by clubs, its showpiece often the Origin series rather than the World Cup. The last few weeks of this tournament and the gripping finale to it all offer an opportunity that international game cannot pass up.
For all the talk of a Big Five, Tonga and Fiji joining England, New Zealand and Australia, the Kangaroos are still the Big One.
No team from the northern hemisphere has beaten them since Great Britain in 2006; there were too many empty seats at this tournament, too many ex-pats playing under flags of convenience.
But in Tonga's support and results, in the defeat of New Zealand before the semi-finals, in England's close pass and Australia being pushed like never before, there is a springboard.
The international calendar finally looks structured, this tournament a regular fixture rather than haphazard.
Hope can be a good thing, too.