England defeat PNG in opening match at Women's Rugby League World Cup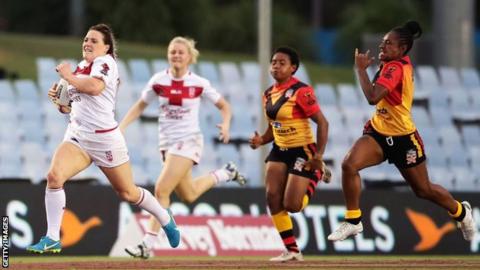 Women's Rugby League World Cup
England: (18) 36
Tries: Hoyle, Hardcastle, Stanley, Booth (2), Bound, Sutcliffe Goals: Stanley (4)
Papua New Guinea: (8) 8
Tries: Kaupa, Oiufa
England comfortably beat Papua New Guinea 36-8 on the opening day of the Women's World Cup.
PNG scored two of the first three tries - through Naomi Kaupa and Anne Oiufa - as they took an early lead.
But the Lionesses went on to score seven tries, with Bradford winger Charlotte Booth crossing twice.
It was the last match of a triple-header in Sydney during which holders Australia thrashed the Cook Islands 58-4 and New Zealand thumped Canada 50-4.
The group stages of the tournament comprises three triple-headers, all played at the Southern Cross Group Stadium in Sydney.
And England take on reigning champions Australia in the next round of fixtures, on 19 November.
There are six teams in the tournament, broken down into two groups of three with the top two progressing to the semi-final stage.
PNG are not in the same group as England - this was their one inter-group game - and the match took place just days before their male counterparts meet in the quarter-final of their World Cup.
For large periods there was little to choose between the two teams, with possession equal at the end.
But the loss of the influential Amelia Kuk to injury at the half-hour mark damaged the Orchids' creative threat and England were able to pull away as the match wore on.
Shona Hoyle scored between the two early PNG tries, and by the break team-mates Amy Hardcastle, Tara-Jane Stanley and Booth had also crashed over.
PNG had a superb length-of-the-field score ruled out by the video referee after the restart, and Chris Chapman's team added to their advantage through Danielle Bound, Booth and Beth Sutcliffe.
"To be playing the game in Australia is a dream come true," said Booth afterwards.
"It was my Wold Cup debut and I was pretty rusty and nervous but I eased into the game.
"They are big girls and we knew they would test us, we will do plenty of recovery tonight and then be ready to go again against Australia."