2018 World Club Challenge: Leeds Rhinos to play Melbourne Storm in Australia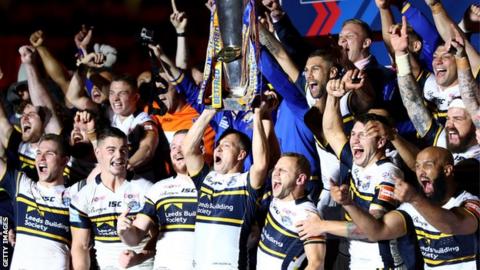 Super League champions Leeds Rhinos will travel to Australia next February to face NRL side Melbourne Storm in the 2018 World Club Challenge.
The match will be held on Friday, 16 February at AAMI Park in Melbourne at 20:00 local time.
Leeds have won the World Club Challenge three times before - in 2005, 2008 and 2012 - and have lost four finals.
The two clubs have faced each other in three previous finals, which were all held in Leeds.
The Rhinos, who won their eighth Super League Grand Final in October after beating Castleford 24-6, were victorious in their first meeting with Storm in 2008, while the Australian side won encounters in 2010 and 2013.
Leeds chief executive Gary Hetherington said winning the World Club Challenge was "the ultimate achievement" for all Super League and NRL teams.
"Leeds and Melbourne Storm have been rugby league's two most successful teams over the past 20 years and it's fitting for us to come together for the fourth time," he added.
"Coming to Melbourne represents our biggest ever challenge. A victory would be the pinnacle in our club's 128-year history."
A one-off match in 2018 marks a change to the previous format of the World Club Series, which had two games in 2017 and three in 2015 and 2016.
However, Wigan and Hull FC are already bound for New South Wales in 2018, as part of their own showpiece regular season Super League fixture in Wollongong.
The two clubs will then face NRL sides in friendlies, which are scheduled for a day after the World Club Challenge match between Leeds and Melbourne.
Analysis
BBC rugby league commentator Matt Newsum
The news that Leeds will travel to Melbourne to face National Rugby League premiers Storm in a scaled-down World Club Challenge is a blow for UK-based rugby league fans, who have become accustomed to an annual party of clubs from the elite southern hemisphere competition coming to these shores in recent years.
Unfortunately the combination of a World Cup, which clubs say has reduced recovery time for the games' big stars, and concerns over the travel impact for NRL teams so close to the start of their season have quelled the appetite for the competition.
Not even the financial compensation, which has seen the travel costs of the visiting clubs taken care of by their Super League hosts, was enough to sway attitudes.
Leeds, as Super League champions, will now take on their counterparts in Melbourne, but for League Leaders' Shield winners Castleford - who expressed their interest in being involved and ticked the required boxes - it would seem no fixture is possible.