BBC Sport - Rugby League World Cup: Super League absentees let Wales down, says Ireland captain Liam Finn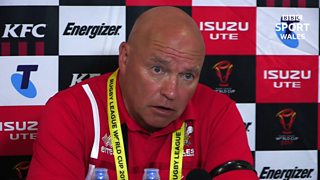 Absentees let Wales down - Ireland captain Finn
Ireland captain Liam Finn says Wales have been let down by players who chose not to play at the Rugby League World Cup.
Finn's side won 34-6 in Perth on Sunday to hand Wales a third heavy defeat at the tournament and send them home winless.
Wales had just three Super League players in their ranks, compared to 11 for the Irish, including eight of them forwards.