Derek Beaumont: Catalans Dragons relegation would be 'devastating' for game, says Leigh owner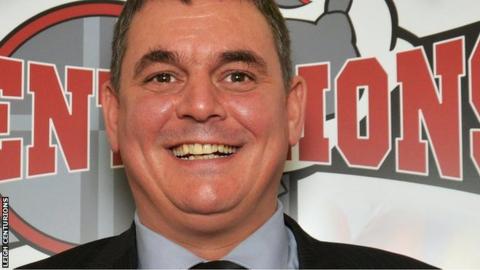 Catalans Dragons being relegated would be "devastating" for rugby league, says Leigh owner Derek Beaumont - whose side they face in the Million Pound Game.
The losers of Saturday's one-off match will drop into the Championship.
"The unfortunate thing is [Catalans staying up] would be at our expense. I don't want that as, selfishly, I've got to look after my club," said Beaumont.
"I think it would be devastating for the game to lose Catalans. I think we need to grow the sport."
Catalans have been in Super League since 2006 and finished sixth last season, but have struggled in 2017 and won just four of their seven Qualifiers games after the mid-season split.
Their appearance in the Million Pound Game was confirmed when they were defeated 12-10 at home by Widnes, who finished below the French side after 23 Super League matches.
Speaking to BBC Radio Manchester, Beaumont continued: "If it is Catalans that go down, or Leigh, as a group of Super League clubs I think we need to ring-fence them with a parachute payment so there's less of a burden on the club.
"They finished 10th in a 12-team competition and are 80 minutes away from potentially being relegated. It just doesn't sit right. That's taking nothing away from Widnes because, at the end of the day, they won a game, although they finished bottom."
Jukes staying with Leigh
Meanwhile, Beaumont says Neil Jukes will remain as Leigh's head coach regardless of whether they are relegated or not, after discussions with head of rugby Keiron Cunningham.
Former St Helens head coach Cunningham has signed a new three-year deal to remain with the Centurions.
"I asked Keiron what he thought of Neil and he said he's great, he's learning and he's doing a really good job," Beaumont said.
"He got us into Super League, I've seen how hard he's worked all year, I see how much it means to him. He's been with the club for 10 years and it would be wrong of me to be impatient and pot him over not getting there in the end."