Marwan Koukash: Salford owner to hand control of club to board of trustees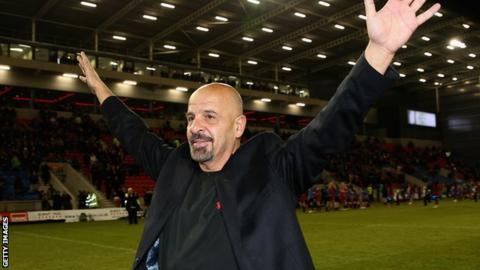 Salford Red Devils owner Dr Marwan Koukash is to hand over control of the Super League club to a community trust.
Koukash, 58, wants the club to become "self sufficient".
"I will appoint a board of trustees to include local Salford businessmen and a representative of the fans to be elected by the season ticket holders," Koukash said in a statement.
Salford finished fourth in the regular season but did not qualify for the play-offs following the Super 8s.
The Red Devils did reach the semi-finals of the Challenge Cup, missing out on a place at Wembley after losing 27-14 to Wigan.
Koukash's arrival at Salford four years ago ended fears the club might go into administration following financial difficulties throughout the 2012 season.
He was a leading voice in a push to raise the salary cap for Super League clubs, with an increase agreed by the Rugby Football League in April.
"During my time running the club I have faced many challenges which I have met head on and I, along with my family, have had many great times, creating very fond memories and friendships that will stay with us," Koukash added.
"I further believe that commercial decisions I have recently taken, combined with the business partnerships and arrangements I have already secured will, with the strong support of the local community who buy season tickets and regularly attend games, means that the club can become self sufficient.
"I am confident that the new structure at the club under the guidance of the trustees will see the club continue to make progress on and off the pitch."