Chris McQueen's England call-up should not be controversial, says James Graham
Last updated on .From the section Rugby League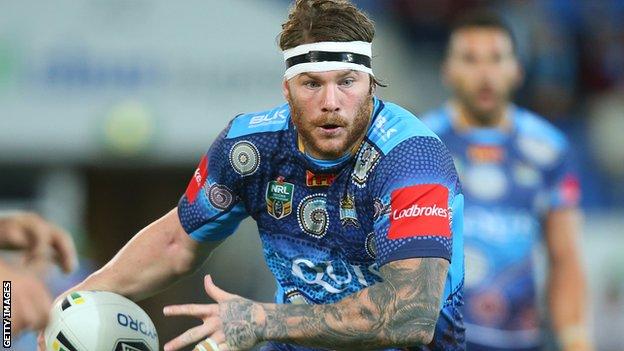 Chris McQueens's call-up for England should not be causing the controversy it is, says prop James Graham.
Brisbane-born McQueen, 29, has been called up by Wayne Bennett for the mid-season Test against Samoa on 6 May.
The Gold Coast Titans back-rower and ex-Queensland Origin player qualifies to play through his English father.
"In regards to it being controversial I get where people are coming from, but sport has changed now," said England's Graham, formerly of St Helens.
The Canterbury-Bankstown Bulldogs forward, 31, told BBC Radio Merseyside; "If Chris wants to play for England, he feels proud to play for England.
"I can only presume that it is Chris that has knocked on Wayne's door rather than the other way around.
"If you have got guys that want to represent their heritage or a part of where they're from then I'm all for that and I'd actively encourage that.
"I've spoken to Australian-born players who qualify for England but some of them don't want to take it on, and some of them do.
"We live in a very multicultural society, people travel, people are born and live in different countries, so I'm all for Chris wanting to play for England - I'm happy he's in the squad and he'll add a lot to us."