Four Nations: Steve McCormack eyes Scotland domestic legacy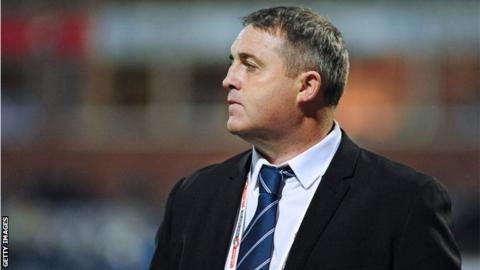 Scotland can develop a strong domestic rugby league legacy on the back of their Four Nations draw with New Zealand, says coach Steve McCormack.
The 13-man code is a minority sport in Scotland, but their coach thinks Friday's 18-18 draw with the world's number one side could be a springboard.
"We've got a lot of people working hard on the ground floor up there now," McCormack said.
"We'd like to get our domestic game sorted."
He added: "We've got a chairman and a board that is working really hard and hopefully the country can see that this is a team to be proud of."
McCormack has had to draw on the Scottish connections of players mainly from England and Australia to make up a 24-man squad that only includes two home-born players.
Asked if Friday's result would spark a growth in rugby league in Scotland, he said: "It should do.
"We'd have liked to have thought reaching the 2013 World Cup quarter-final would've left more of a legacy."
Scotland overcame a dreadful start in their opening match against Australia in Hull to emerge from a 54-12 defeat with credit and the Bravehearts gave England a scare in Coventry before losing 38-12.
Friday's draw with the tournament holders provided further evidence of the talent available to McCormack, even though most of it qualifies through the grandparental rule.
The result also meant Scotland succeeded where France, Wales, Papua New Guinea and Samoa previously failed by becoming the first "fourth nation" to claim a point at the tournament.