John Kear: Wales head coach says they need to 'improve massively' for Italy game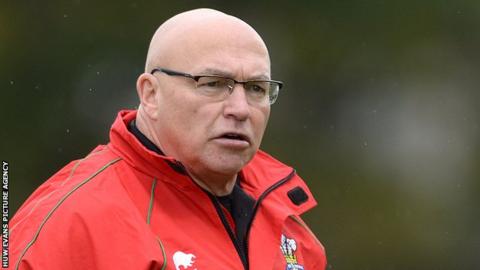 Wales head coach John Kear says his side will need to improve on their performance against Jamaica if they are to beat Italy in their 2017 Rugby League World Cup qualifier.
Jamaica held Wales to a thrilling 16-16 draw in a friendly in Wakefield.
Kear's side face Italy in Monza on 29 October and victory will secure their place in next year's World Cup.
"There's a great deal for us to work upon and we'll have to improve massively to beat Italy," Kear said.
"That's the top and bottom of it. If we play like we did [against Jamaica], we'll be coming back from Italy having to try and qualify through the play-off game."
Wales kicked off their World Cup qualifying campaign with a comfortable 50-0 win against Serbia, who lost 62-14 to the Italians on Saturday.
Kear's side or Italy will qualify with victory while the group runners-up will face Ireland or Russia in a play-off on 4 November in Leigh.
Wales trailed 12-8 at half-time against Jamaica but led 16-8 as the games reached a climax before Aaron Jones-Bishop crossed for his hat-trick.
"I was very disappointed with our attitude towards the game. I don't think we respected the opposition and that's unforgivable really," Kear added.
"We were sloppy in our attitude, we were sloppy in our preparation, we were sloppy in our execution on game day. It's only some pretty good defence that's actually kept us in the game.
"There were some good individual performances, but individuals don't win you games in rugby league. It's the team that wins you games and, as a team, we were off the mark."