Brett Ferres: England forward to miss Four Nations with calf injury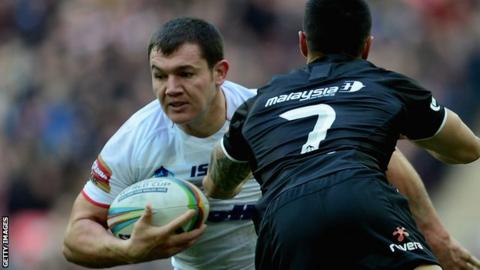 Brett Ferres has been ruled out of England's Four Nations campaign after injuring a calf in training.
The forward, 30, has been replaced by Leeds Rhinos team-mate Stevie Ward.
Ward, 22, has played four matches since returning in September from a knee injury that kept him out for 12 months, and has also had depression.
England play a warm-up game in France on Saturday before their opening Four Nations match against New Zealand in Huddersfield seven days later.
Australia and Scotland are the other two teams taking part in the tournament.
Ward was set to start a three-week end-of-season road trip round the USA with Leeds team-mate Adam Cuthbertson when he found out he had been called up.
Earlier this year, the loose forward set up an online magazine, Mantality, encouraging professional sportspeople to be honest about difficulties with depression.
"I had depression in 2014 and you don't value anything you do," he told BBC Radio Leeds in May.
"You're in a low mood all the time and you don't value what you say or do. You struggle to get out of the house as much as you do when you have a broken leg.
"It's not spoken about so let's speak about it - let's be honest."