Luke Dorn: Family inspired Australia return for Castleford Tigers favourite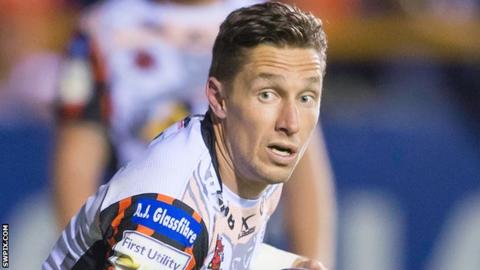 Castleford full-back Luke Dorn says family was a key factor in the return to Australia and his hometown Maitland after 12 years of Super League.
The 34-year-old ended his career with a try in Sunday's season-ending win against Widnes, one of 182 scores for Cas, Salford and London Broncos.
He will now return to 'bush footy' with his local team Maitland Pickers.
"I'm really proud and looking forward to playing for Maitland, coming full circle," Dorn told BBC Radio Leeds.
"It'll be great just to reacclimatise to being back home and I'm looking forward to my kids having a relationship with their grandparents, aunties, uncles and cousins.
"The whole experience of moving back to Australia is going to be massive, to be able to experience those things for my family - we're looking forward to it."
Dorn bowed out of the professional game in front of a packed Wheldon Road, with the majority of the 7,103 crowd stayed long after the hooter to request photographs and signatures, as well as serenade the departing New South Welshman.
"I thought I'd be emotionally upset, but I'm not - it's a happier emotion that has come over me," Dorn said.
"Not many people get to go out the way I have been able to decide. I'm so grateful. It's overwhelming as a person.
"I just wanted us to win and wanted to get a try, and to get both I couldn't be happier."