BBC Sport - Stevie Ward: Leeds Rhinos back-rower on his 2015 Grand Final disappointment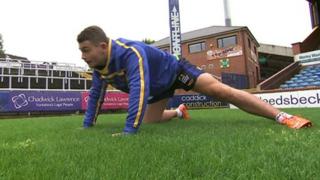 'I wished I was part of the Grand Final'
Stevie Ward's career with Leeds was on an upward curve when he crossed to give the Rhinos the lead against Huddersfield in the final game of the Super League Super 8s last season.
However, a knee injury later in the game brought his world crashing down and cost him a Grand Final appearance as the Headingley club went on to win the title.
Here he tells BBC Super League Show about that moment, and the impact it had on him going forward.
You can see the full piece with Stevie Ward on the BBC Super League Show, 4 July on BBC One in the north of England at 23:45 BST, on BBC Two nationwide at 00:35 BST Wednesday, 6 July or on the BBC iPlayer all week.