Leigh could compete in Super League, says coach Paul Rowley
Last updated on .From the section Rugby League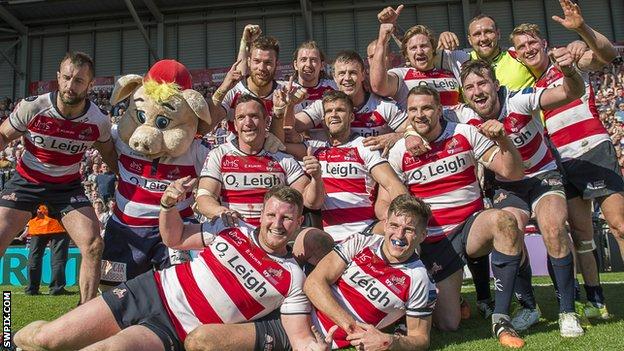 Leigh Centurions are capable of playing in Super League, as shown by their Challenge Cup win over Salford, according to head coach Paul Rowley.
The Championship side, who extended their winning run to 21 games, beat Salford 22-18 in the fifth round.
Leigh are top of the league and favourites for a top-flight return.
"Anyone who doubted and thought it was pie in the sky and we had no chance, it's answered that question," said Rowley. "We're capable."
He added: "Other people know it and we know it.
"I think people need to recognise the quality in the Championship and we'll have to prepare and focus just as hard to beat Batley away next week," he told BBC Radio Manchester.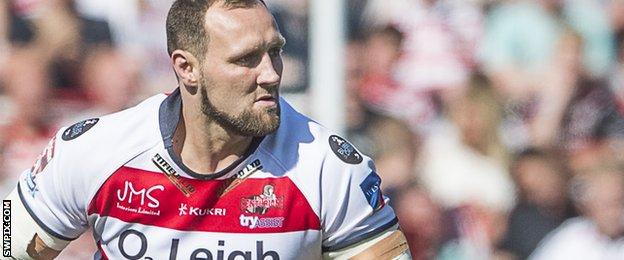 With promotion and relegation reintroduced this season, the top two divisions of 12 teams will split into three groups of eight in July, with the top eight guaranteed to be in Super League next term.
If Leigh finish in the top four in the Championship, they will go into the middle group for the next phase of the season.
The top three from the middle group will go into Super League for next season, with the teams finishing fourth and fifth meeting in a so-called 'Million Pound game' to decide the final promotion place.
Leigh's win over Salford on Saturday also saw forward Gareth Hock face his former side for the first time, having ignored the threat of legal action to play. The Red Devils had said the 31-year-old would break a settlement agreement if he played against them.
"I'm not sure who the pressure was on - I don't think Gaz felt any, I didn't and his team-mates didn't," added Rowley.
"None of them felt any pressure and neither did the coaches.
"I think is was just on [Leigh director of rugby] Derek Beaumont and [Salford owner] Marwan Koukash, they can have all the pressure they want."