Michael Dobson can 'free up Rangi Chase threat' for Salford
Last updated on .From the section Rugby League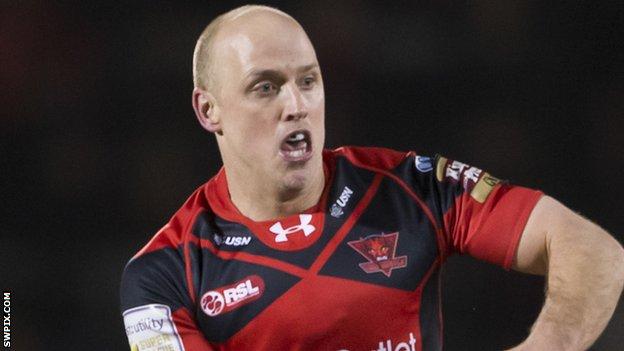 Michael Dobson's influence can help bring out the best displays from playmaker Rangi Chase at Salford, says Huddersfield prop Eorl Crabtree.
Former Hull KR half-back Dobson, 28, returned to Super League for 2015 after a year with NRL side Newcastle Knights.
Crabtree believes a strong half-back pair can give Salford more options.
"He's got a great kicking game and, if you can get him into the game, it means Rangi can be more of a threat," Crabtree told BBC's Super League Show.
"If you have more threats, teams can't just focus on one player."
Chase's brilliance has been in evidence this season, with his skills creating a world-class try against Hull FC earlier this season.
With Dobson injured for the start of the campaign, the England stand-off - alongside France international half-back Theo Fages - provided the creativity for Iestyn Harris' side, in an attack also containing New Zealand Test full-back Kevin Locke.
However, with all three halves now fit, Salford have plenty of options.
"Salford have threats everywhere, they have some quality players and it's about utilising them to the best of their ability," Crabtree continued. "Everything goes through Rangi but 'Dobbo' is a great player."
Crabtree's Huddersfield side, currently third in Super League, face sixth-placed Salford on Friday.
And the front-rower is aware of the power posed by opposition forwards Adrian Morley, Cory Paterson, Lama Tasi and skipper Harrison Hansen in the pack.
"What's impressed me is the physical threat through the middle," he added.
"The big boys power down the middle, defensively they've let themselves down a little bit in the past, but on their performance against Widnes they have massively improved."