Zak Hardaker: Leeds Rhinos reported player to police
Last updated on .From the section Rugby League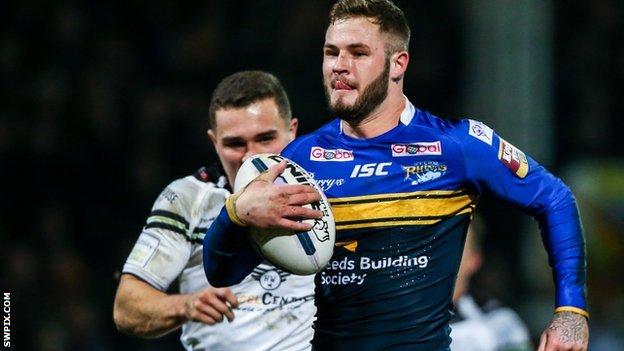 Leeds Rhinos reported full-back Zak Hardaker to police after identifying a photo of him that was released following an assault on a student.
Rhinos coach Brian McDermott told BBC Radio Leeds: "We were the ones who rang the police.
"We alerted Zak and Elliot that they needed to go to the police."
He added: "This is a blip and hopefully in our internal investigation we can find some positives in this and turn it around and some people can learn valuable lessons."
The Rhinos released a statement on Tuesday to say that the two players had been released without charge by police, and the Super League club would be continuing to investigate the incident themselves.
Both players are available for selection.
England international Hardaker was fined and warned by Leeds for breaching their code of conduct after being thrown out of England's World Cup squad in 2013 for misconduct.
He also served a five-match ban last June after being found guilty of making homophobic comments during a game at Warrington.
When asked if Hardaker's time at Leeds could be brought to an end, McDermott said: "I think that's what the investigation is for.
"We're going to find out exactly what led up to this incident and it would be wrong to make any comment on what the future might hold.
"We need to make sure that this isn't accepted, but bigger than that, this is not what we are about.
"You cannot be out in the early hours and expect to be a professional player at the level we want you to be."