Zak Hardaker: Leeds and England full-back released after assault
Last updated on .From the section Rugby League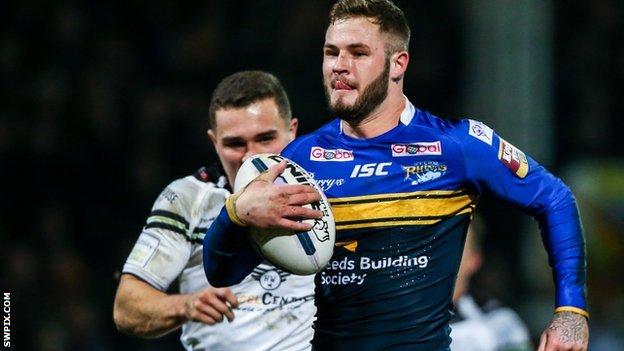 Leeds Rhinos and England full-back Zak Hardaker has been released without charge after admitting the assault of a 22-year-old man in Leeds on 3 February.
Hardaker, 23, and club-mate Elliot Minichella, 19, agreed to pay £200 in compensation and write a letter of apology to the victim, a student, under a "community resolution".
The club said: "Rhinos will continue their internal investigation.
"However, both players will be available for selection this week."
Police described the incident as a "nasty assault" at the Opal One building on Burley Road last month.
Detective Inspector David Roberts, from Leeds CID, told the Yorkshire Evening Post: "A 19-year-old man from Bradford and a 23-year-old man from Knottingley voluntarily attended a police station in Leeds on Monday.
"Both men admitted the offence of assault on a 22-year-old man at a student halls of residence on 3 February on Burley Road, Leeds."
Hardaker was fined and warned by Leeds for breaching their code of conduct after being thrown out of England's World Cup squad in 2013 for misconduct.
He also served a five-match ban last June after being found guilty of making homophobic comments to referee James Child during a game at Warrington.