David Collier named International Rugby League Federation CEO
Last updated on .From the section Rugby League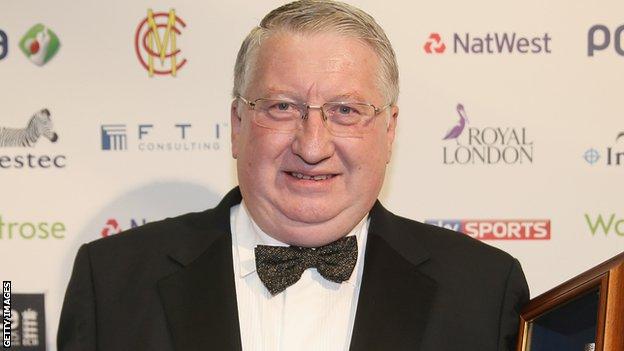 David Collier has been appointed as chief executive of the Rugby League International Federation.
The 59-year-old, who held the same role at the England and Wales Cricket Board, will take up the post on 1 April as the Federation's first full-time chief executive.
He has also worked with the international Cricket Council and the International Hockey Federation.
"The brief is to expand the game worldwide," Collier told BBC Sport.
"Clearly following the 2013 World Cup success in England there's been a massive expansion in the international game - in the last five years we've more than doubled the amount of countries playing rugby league.
"The brief is to make maximum advantage of that running into the Australia and New Zealand World Cup in 2017, and laying the foundations for a successful international federation."
Rugby league showed its strength at the 2013 World Cup with strong attendance and viewing figures, although there was criticism of the number of players drawn from the dominant Australasian National Rugby League and European Super League for developing nations.
The major nations, Australia, New Zealand and England, continue to deliver big audiences through the Four Nations and Test series, but the RLIF is also committed to growing international rugby league for countries outside the elite sector.
Collier on his own international experience
"It's broadening experience," Collier said. "I've been lucky enough to serve on two international federations, and they are quite different to domestic and national federations. Rugby League is really well placed to grow on what was achieved at the Commonwealth Games in Glasgow and what was achieved in the World Cup. As it's the second-largest sport in Australia, I'm sure the 2017 World Cup is going to be a massive event in that country."
"There is a virtuous circle here, if the international game is strong it helps, nurtures and supports the domestic leagues," continued Collier.
"Even the strength of the Super League in Europe and the strength of the NRL in Australia really needs that global growth.
"If we can grow the game globally, get greater TV audiences around the world, greater spectator interest around the world, that makes those leagues even more successful."
Serbia and Spain are two countries in which the European federation has recent success, setting up league structures and granting membership status.
"I think the difference is the expansion and focus over the last five years," said Collier.
"The success we've seen in the Pacific Islands, success of the European federation now with 20 members and the growth of the game in the Americas shows the potential for rugby league.
"We realise this is the start of the new era; it is a start-up operation for the new federation in a major way.
"I'm really excited about the challenge."