NRL referees scrap pink shirts in a bid to increase their authority
Last updated on .From the section Rugby League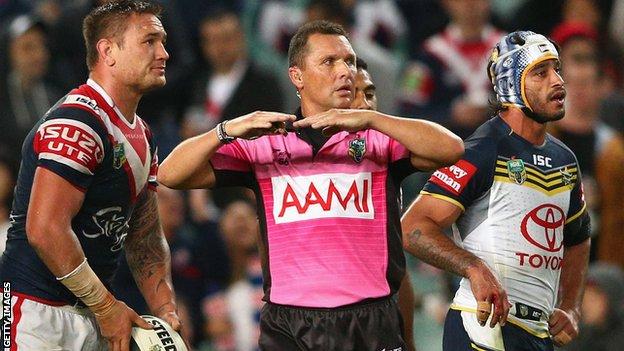 The pink jersey worn by Australian rugby league referees is being scrapped as there is a feeling among officials that it undermines their authority.
But the move has come in for criticism for alienating certain groups.
Dr Tom Heenan, of the National Centre for Australian Studies, said: "I don't think this move away from pink really supports social inclusion."
Heenan told the BBC World Service that the change risks alienating the gay community and breast cancer awareness groups.
Pink shirts across the NRL
The NRL's annual 'Women in League' round sees all 16 clubs issue a special one-off shirt, with most clubs featuring a pink influence. Some clubs such as Penrith Panthers have previously gone entirely pink, while others such as Sydney Roosters, Cronulla Sharks and North Queensland Cowboys have incorporated pink into their traditional chevron or stripe.
He said: "If you are wanting a more inclusive football community you have to be more aware of the symbolisms of marginal groups within that community."
Some referees believe the pink uniform makes their job harder, but psychologist Chris Pomfret believes there is no evidence to support this.
He said: "I'm not aware of any evidence the colour pink would make any difference to how an official is perceived by the people they are officiating over, the crowd, coaches or any other observers.
"And how would a different coloured shirt change the skill executions in practical terms or respect in credibility."
NRL matches have two on-field referees and this season the senior official will wear a football-style armband which could be blue - or pink.
The NRL season kicks off on Thursday when Brisbane Broncos take on last season's Premiers South Sydney Rabbitohs.
Penrith Panthers, who have a pink alternate shirt, take on Canterbury Bulldogs on Sunday.
Adrian Morley's view from the pitch
Salford Red Devils captain Adrian Morley, who played in Australia for five years with Sydney Roosters, believes the colour of the referee's shirt makes no difference.
"Players in rugby league show impeccable discipline and are always respectful of referees whatever they are wearing.
"It's probably just an excuse because they don't like wearing pink."