Brett Seymour: Castleford Tigers release half-back
Last updated on .From the section Rugby League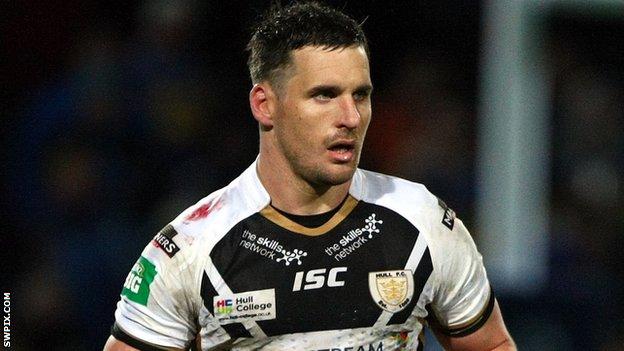 Castleford Tigers have released Australian half-back Brett Seymour from his trial period at the club.
Tigers head coach Daryl Powell said the decision was mutual.
Powell said: "Brett has been fantastic and fitted in well while he has been here, but with Marc Sneyd, Liam Finn and Jamie Ellis in front of him, it left him fourth in line."
He continued: "We wanted to give Brett the best opportunity to get a club because with the way rugby league is at the moment, he just can't play. That's disappointing but that's just the way it is.
"It's disappointing for us and Brett that it hasn't worked out, but that's life sometimes and our excellent start to the season has made it more difficult for him to get in the team."
Seymour recently spoke about his problems off the field in the hope it would help others suffering with similar issues.
Last year he attempted to take his life when, struggling with his form and, unbeknown to him at the time, depression, he produced a performance littered with mistakes in a televised Super League match between Hull FC and Widnes.
The following day, after taking a combination of alcohol and sleeping pills, he drove towards the Humber Bridge with the intention of driving straight off it but instead he crashed into two parked cars.
Seymour's problems followed him over from Australia, where he was sacked by two clubs for alcohol-related incidents and convicted of drink-driving before moving to Hull.
After a month in Sporting Chance, the clinic set up by former England footballer Tony Adams, Castleford offered Seymour the opportunity of a fresh start.