Steve Prescott: Man of Steel to be renamed in late player's honour
Last updated on .From the section Rugby League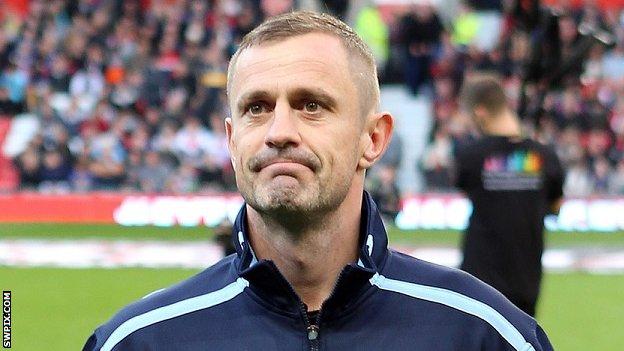 The Man of Steel award, given every year to the Super League player of the season, is to be renamed in memory of the late Steve Prescott.
The ex-St Helens, Hull and Wakefield full-back raised over £500,000 for charitable causes after being diagnosed with a rare form of cancer in 2006.
He completed a series of fundraising challenges before his death last year.
Wife Linzi Prescott said it was "a fitting tribute to a man who showed so much grit and determination".
She continued: "Steve's name will forever live on and be known alongside such rugby league greats as Lance Todd and Harry Sunderland.
"We are extremely grateful to Super League and its clubs who have sanctioned this move and they have recognised how Steve has promoted this great game through his efforts, and we on behalf of his foundation will continue to do so."
Prescott, who played for England and Ireland, was diagnosed with pseudomyxoma peritonei, a rare form of stomach cancer, in 2006 and given only months to live but battled the disease and in 2009 was made an MBE.
The Rugby Football League's proposal to rename the honour which has been awarded annually since 1977 received unanimous support from the 14 Super League clubs at their extraordinary general meeting last week.
It follows the announcement that two of Prescott's former clubs, St Helens and Hull FC, will compete for an annual Steve Prescott Cup.
Super League chief operating officer Ralph Rimmer said: "It is absolutely right that the player whose on-field heroics capture the imagination of his peers throughout a season is presented with an award named in recognition of one of the sport's true heroes.
"Steve Prescott really was a man of steel - a truly extraordinary individual who was universally respected by all who knew him and those who watched or read about his exploits.
"Steve was not only a great player and an outstanding ambassador for the sport throughout his illness, he was much more than that.
"He was an exceptional human being who impacted upon many more lives than the ones he touched in rugby league and this has been highlighted by the support shown by not only the clubs but also the general public in the naming of the Steve Prescott Man of Steel award."
The Steve Prescott Foundation has donated £526,000 to The Christie NHS Cancer Hospital and RFL Benevolent Fund.