Sam Tomkins: England full-back ready to prove doubters wrong

Last updated on .From the section Rugby League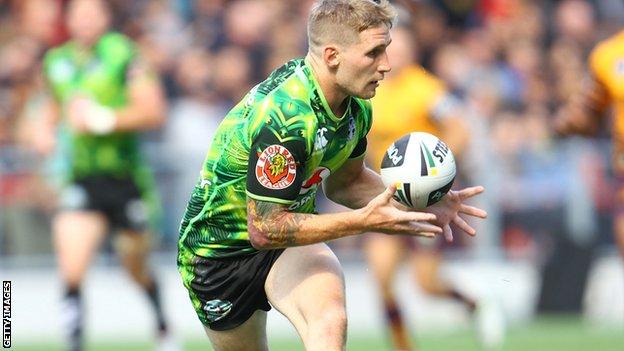 Sam Tomkins makes his NRL debut this weekend thriving on the pressure of those who want him to fail.
But, speaking from Auckland ahead of his debut at full-back against Parramatta, the 24-year-old sounded relaxed, excited and ready.
"As a player I am having to start all over again," said Tomkins, a double winner with Wigan last season.
Despite winning both the Grand Final and Challenge Cup twice in England, Tomkins believes the perception of British rugby league in Australia and New Zealand means he will have to prove plenty of doubters wrong.
"I'm coming over here completely unproven," he admits. "People in the NRL don't give much credit to Super League. People who've played in both have a real high opinion of Super League, but the majority who don't know anything about Super League talk it down."
Having matured from the youthful target of boos to Super League's poster boy at Wigan, Tomkins feels the responsibility is on his shoulders to showcase Super League down under. And even more so in the wake of the decision by Sam Burgess to switch codes.
"I want to represent Super League," he said. "There's going to be a big bunch of people wanting me to fail. That's not something I will worry about.
"I'm not naive enough to think it's all going to be rainbows over here and people wanting me to do well. That's not how sport is. I knew the pressures of coming over before I signed and these are pressures I can handle."
While desperate to get on the pitch and display his skills to a new audience, Tomkins says his acclimatisation off the field has been both swift and comfortable. He flew out to Auckland with his best mate two weeks before reporting to training in January.
The club sorted Sam out with a city centre flat, but after using that fortnight's holiday to get his bearings, Tomkins has already bought a place of his own near the beach.
He is hanging out with his good friend Thomas Leuluai - also formerly of Wigan, along with fellow team-mates Dane Nielsen and Shaun Johnson - whose last-second try knocked England out of the World Cup in November.
"Me and Shaun haven't spoken about the semi-final," jokes Tomkins. "I think he knows not to mention it."
His best friend - an electrician who has already found regular work and is loving the new lifestyle - and his two cars (shipped over) are the sole surviving home comforts from Wigan for Tomkins. His old house is now being occupied by his mum who has also taken ownership of his pet Chihuahua, Keith.
"The dog didn't make the trip with me as he'd have to be in quarantine for 12 weeks," he says.
"I have the odd night where I wonder what I would be doing if I was back in Wigan, but no homesickness yet.
"Training is similar; it's just getting used to pre-season in shorts and a vest rather than hat, gloves and jumpers."
One huge change for Tomkins is the amount of travelling within the season. With New Zealand Warriors the only NRL team based outside Australia, there is a long flight every other week - a far cry from Wigan's away days at St Helens and Widnes.
He believes this is something that brings the squad together, saying: "I've never seen a bunch of lads happier in each other's company."
The profile of rugby league is huge in Australia and New Zealand, and Tomkins admits he is surprised by the attention he has already received.

"People spot me and recognise me over here, which is strange really," he adds. "It is not the same as in Wigan though. If someone spots you in Wigan they will get you in a headlock and put you on the phone to their wife. People over here are a bit more shy."
Sam Burgess has embraced the celebrity lifestyle since his move to Australia, but you sense that is not Tomkins's style. I ask what he thought about the decision by Burgess to quit league for union at the end of the year.
Tomkins - himself open to a future code switch - does not blame Burgess one bit. "We have a very short window in which we play rugby," he says.
"Burgess has put himself up with the best two or three players in the world and if you get to that level you do what you want.
"He's earned his stripes playing league and he's that good he will be a star in union too. He will get hold of the game in time to make the World Cup squad, without a doubt.
"In two years' time we will be talking about how quickly he's matured into a quality rugby union player."
His own targets are clear. Tomkins wants to win the NRL title. "There is nothing else I want more. I am desperate for that," he admits, before I dare to mention there may also be unfinished business with England given their failure to reach the final of their home World Cup. He agrees.
"Definitely," he replies. "We undersold ourselves again at the World Cup. Hopefully me being over here will improve my game and all the English lads being here. Weakening Super League will strengthen the England team.
"People talk Super League down, but it is certainly not dying or struggling as much as people would like to make out in the media."