Has Newbury's Hennessy Gold Cup lost its sparkle?

By Cornelius Lysaght
BBC horse racing correspondent
Last updated on .From the section Horse Racing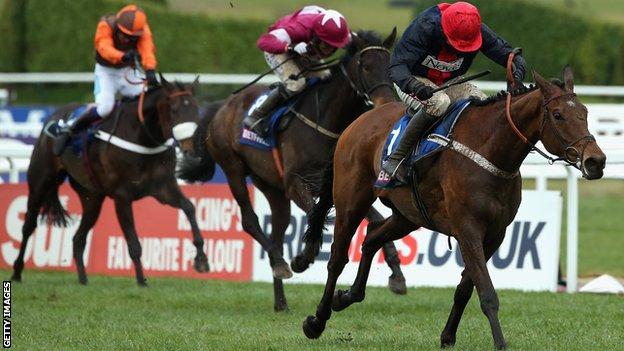 Newbury racecourse, home of the prestigious Hennessy Gold Cup for all but the initial three of its 56 years, is a great one for rebranding.
Already, to aid the sale of hundreds of houses and flats being constructed at the track, it officially calls itself 'The Racecourse Newbury'.
Apparently property marketing folk, tasked with helping to flog the 1,463 new homes, asked for the name change, which is rarely used and much-derided within racing circles.
For some regulars, the appearance of Denman Drive - named after the brilliant, two-time winner of the big race - and the rest of the development is simply an unwelcome encroachment.
However, officials insist it's all necessary to ensure the future of racing in Newbury "for the next 100 years".
Now, the rebranding has spread, with the racecourse's biggest fixture titled from this year the 'Hennessy Heritage Festival'.
It is billed as a reminder of how the glittering history of the oldest commercial sponsorship in world sport has included some of jump racing's greatest talents.
Cheltenham Gold Cup winners Mandarin, Arkle (twice), Burrough Hill Lad, Denman and, in 2012, Bobs Worth are all on a distinguished roll of honour for the race which this year boasts a £175,000 purse.
But the need for a memory jog is relevant. There is an acknowledgment that Hennessy Day has lost some of the fire that once made it among the brightest beacons of the jumps season.
Previously overcrowded enclosures and regular traffic chaos left their marks, and Newbury has found itself forced to fight hard for decent profile against alternative leisure pursuits.
As one senior racing figure put it to me the other day: "Once you'd have given your right arm to be at the Hennessy, but not anymore."
To be fair, Newbury's most recently published annual attendances were respectable (2012 crowds averaged 8,000), but much of the racing is unexciting for a Grade One venue.
There's a feeling that while the place is maybe not going downhill, it is hardly thriving like it could do.
A new chief executive is expected to be appointed by Christmas, and he or she has plenty of work in front of them.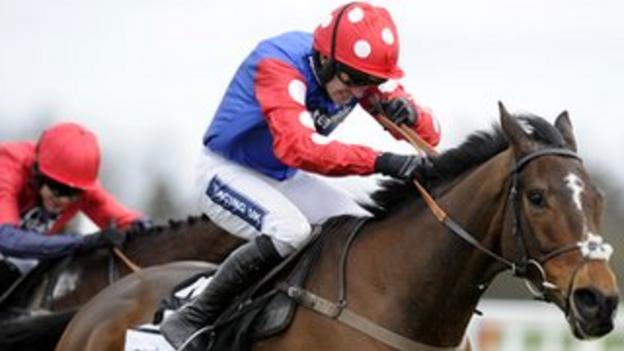 Addressing the over-zealous policing of the new (rebranded?) "stylish but relaxed" dress code, which has seen punters being made to unbutton winter coats, to prove what they're wearing underneath, might be a starting point.
In the big race this year, 21 runners are due to line up, with Rocky Creek, Invictus, Our Father and Irish challenger Lord Windermere all vying for top spot in the betting, on or around 7-1.
No horse from Ireland has won since Bright Highway in 1980, but Lord Windermere's trainer, the ex-jockey Jim Culloty, rider of Best Mate, has been exuding confidence about last season's RSA Chase winner.
Of the well-fancied Rocky Creek, trainer Paul Nicholls said: "He's in good shape and is an ideal horse for the race, but the problem is there are 20 others saying the same thing.
"It looks like a very good, open running."
The switch by trainer Nicky Henderson's number one jockey Barry Geraghty from the stable's Hadrian's Approach to Triolo D'Alene has been seen by some as significant.
"There's not a lot between them," explained Geraghty. "Nicky asked me which I wanted to be on, and I said I didn't really mind.
"Both had good first runs [of the season], and both will go well."
Nico de Boinville, formerly an amateur with the yard, gets his biggest opportunity since turning professional on Hadrian's Approach.
Katenko, one of only a handful in the field rated a Cheltenham Gold Cup possible, could be interesting at each-way odds.
If those aspirations are at all realistic, the seven-year-old, who's been nursed through serious health problems by in-form trainer Venetia Williams and her team, must surely play a big part.