Rugby League World Cup 2013: England's heartache
By Paul Fletcher
BBC Sport at Wembley
Last updated on .From the section Rugby League
Regrets for England - there will be a few.
Kevin Sinfield's missed conversion that, eventually, would have put his team 20-14 in front; his charge off England's goal-line in the dying seconds and failure to tackle Shaun Johnson, who then scored the match-stealing try.
Then there was Ryan Hall's knock-on with the wide-open spaces of Wembley in front of him with his team leading 18-14; and George Burgess's high tackle that gave the Kiwis that one last chance with seconds remaining.
"I don't think many of us will sleep tonight to be honest," said a visibly stunned Hall afterwards. "That will keep us awake for days but as sports people you put yourself at risk of that happening to you."
England's 20-18 semi-final defeat against New Zealand at Wembley on Saturday afternoon was as heart-breaking as they come.
It was no wonder that every player in white slumped to the floor in disbelief after Kiwi half-back Johnson eluded the blitz defence of Sinfield and waltzed past George Burgess before touching down.
But ultimately, it was all the small missed chances added up, one after another, that cost England a place in the World Cup final at Old Trafford next Saturday.
It was their failure to press home an advantage that they had worked so heroically and skilfully to build against a formidable team few had given them much chance of defeating.
"There are a thousand different things during a game that if you could change, the result would be different," said man-of-the-match Sam Burgess.
If ever there was a man who did not deserve to be on the losing side it was the South Sydney Rabbitohs player - 18 runs, 206 metres, 29 tackles, three offloads, one line break, one try assist, one try.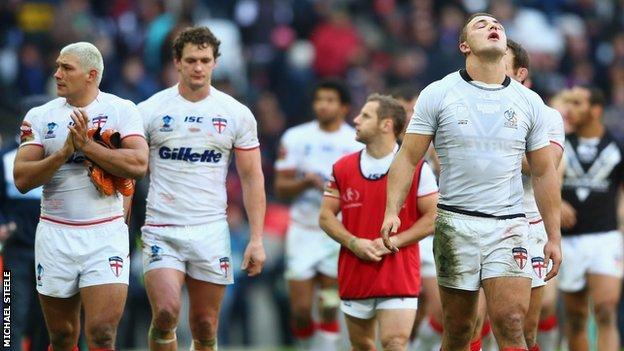 Burgess was immense. Much had been said in the build-up of Burgess and Kiwi Sonny Bill Williams going head-to-head, but on the day the Englishman was peerless. No wonder former Great Britain and England captain Jamie Peacock said that it was the best performance by a player in an England shirt for 20 years.
"Sometimes you don't get what you deserve and I feel that today is one of those days," added Burgess.
"It is hard to describe the words within the group. Some people you cannot get a word out of, others need a cuddle."
England had stuttered through to the last four of the World Cup but at last finally found the sort of performance they had been promising.
Having done so, they should have delivered a result that could have produced a much-needed shot in the arm to the game in this country.
Instead, England are left with what Peacock described as "a hurt that never leaves you" and a campaign that, no matter how harsh it seems after what they produced at Wembley, must be classed as a failure.
Coach Steve McNamara and skipper Sinfield both said weeks ago that reaching the final was a minimum requirement.
Sinfield also said in the build-up to the semi-final that it was the biggest game of his career and he deserves huge credit for a superb performance. He manoeuvred his team around Wembley and created two tries with superb passes. But his side came up agonisingly short when it mattered most.
England comfortably beat Ireland,Fiji and France, but their tournament was bookended by games against the sport's two southern hemisphere super-powers of Australia and World Cup holders New Zealand. And they lost them both.
"We played very well against New Zealand, we knew we could, we knew it was in there somewhere, but it was not for the full 80 mins - just 79 minutes and 40 seconds," added Hall.
"We must learn that our mentality has to be right, to concede in the last 20 seconds means that something was wrong."
McNamara has tried to sound positive throughout, but results on the field and events off it have painted a different picture.
England were supposed to cruise past Italy with their eyes shut in their warm-up game but lost 15-14 at a sodden Salford. By the time the opening game of the tournament kicked off against Australia in Cardiff, Gareth Hock had been removed from the squad for disciplinary reasons and James Graham surprisingly omitted from the team to play the Kangaroos.
Dropping arguably your best prop for a fixture against the tournament favourites - why Steve? Alas, Steve didn't want to discuss the subject and walked out of his eve-of-tournament media conference when he was repeatedly asked about it.
England produced in patches against the Kangaroos, Ireland, Fiji and France but not for longer than 20-minute periods. They fixed that against New Zealand - and credit in part must go to the half-back pairing of Sinfield and Gareth Widdop.
That came after McNamara took the sudden and unexpected decision to drop half-back Rangi Chase after backing him through thick and thin, in the face of repeated criticism in the press and from the stands, since first selecting him in 2011. Chase was not at Wembley on Saturday after being given permission to leave the squad.
It does not suggest a camp where all went smoothly and an emotional McNamara admitted after his team's exit that they had endured their ups and down but come through the other side.
The other side, of course, is in this case a missed opportunity.
England were brilliant on Saturday. They played with desire, skill and guts. They showed finesse and determination and did so in front of a passionate crowd.
It was a glimpse of what the game in this country might become, and every England player that I spoke to afterwards was enthusiastic and energised when asked about the future.
England has a genuinely talented squad. Most of them are young enough to play in the next World Cup in 2017, while McNamara is out of contract with his future uncertain.
"We are building nicely and Steve has helped us endless amounts," added Hall.
"He is a great coach and I love working with him, I think he deserves another shot at the tournament."
It is a huge shame for the game in this country that England fell for the third straight tournament at the semi-final stage, all of those defeats against the Kiwis.
Days after England's football team suffered back-to-back defeats at Wembley and with England's cricketers on the end of an Ashes hiding in Australia, it is terribly disappointing that England's rugby league team could not take their chance to steal the limelight.