Steve McNamara keen to remain England coach after World Cup
Last updated on .From the section Rugby League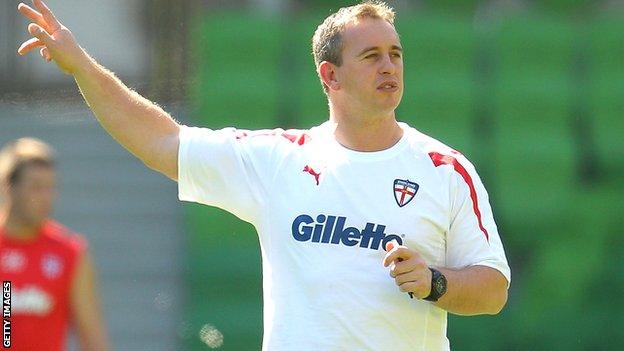 England coach Steve McNamara wants to remain at the helm when his contract expires at the end of the World Cup.
He said of the England role: "I'll give it serious consideration but it's been a good job and hopefully I'll get an opportunity to continue."
The tournament begins on 26 October with England taking on Australia at the Millennium Stadium in Cardiff.
The World Cup was first staged in 1954 and Great Britain won two of the first three competitions, but southern hemisphere teams have won the last seven events.
After Great Britain won the 1972 tournament in France, having drawn 10-10 after extra-time with Australia and being awarded the trophy on league placing, the Australians won the next six versions, with New Zealand claiming the most recent in 2008.
In 1995 the Great Britain team was formally divided into four separate World Cup nations and England were beaten 16-8 in the final by Australia, the last time they went beyond the semi-finals.
The 14-team tournament which will see England also play Fiji and Ireland in Group A, concludes with the final at Old Trafford on 30 November.
"I think we'll be successful," said McNamara.
"If you look at this squad, other than a couple of senior players, particularly in the back row and Kev (Sinfield) in the halves, and see how fit, young and virile it is and how many years it's got left in front of it, I think it's a really exciting time for the England rugby league team.
"I was born in 1971 so it's been a whole generation of us not seeing success against Australia. I think that has hurt us as a sport and we need to break that cycle.
"The people who achieved that back in 1972 got the job done in a fashion that was tough and determined and we need to replicate that and give the generation of kids who are coming through now something to aspire to."