Club Call: Warrington pick Huddersfield for play-off semi-final
Last updated on .From the section Rugby League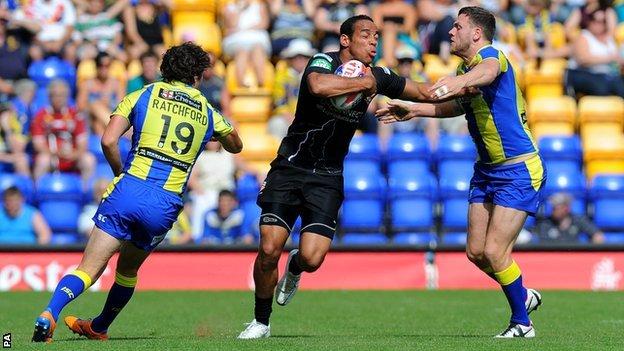 Warrington have picked Huddersfield as their opponents for the first Super League play-off semi-final on Thursday.
The Wolves had the choice of last-four opponents under the Club Call system and have opted to play a side they have already beaten three times this season.
Wigan will now host Leeds in the other semi-final on Friday.
"Warrington obviously feel they can beat us so we've got to knuckle down and prepare for Thursday," said Huddersfield coach Paul Anderson.
Under Super League's Club Call system, the higher ranked of the two teams who win in the first pair of play-off matches - the qualifying play-offs - can choose their last-four opponents.
Warrington coach Tony Smith is against the concept, which he has called "a ridiculous gimmick", and was absent as his side's pick was announced on Sunday.
Huddersfield ended the regular season top of the table but missed out on Club Call privileges when they were beaten by fourth-placed Wigan in the opening game of the play-offs. Warrington's decision is the first time a team has chosen to play the league leaders.
Leeds - whose half-back Danny McGuire had said he was "99% certain" his side would be picked by Warrington - will now travel to Wigan with doubts over forwards Jamie Jones-Buchanan and Brett Delaney, who picked up knee and groin injuries respectively in an 11-10 win over St Helens.
"We're really excited to be in this position," said Leeds coach Brian McDermott.
"We went to the DW Stadium a couple of weeks ago and it was a cracking game which took a few lumps out of us. It's going to be a big ask for us."
The Rhinos last visit to the DW Stadium was final match of the regular season earlier this month when they won 20-6.
This year is the first time since the eight-team play-off was introduced in 2009 that the league table's top four sides will face off in the last four of the play-offs.