Salford City Reds deducted two points for fielding 14 players
Last updated on .From the section Rugby League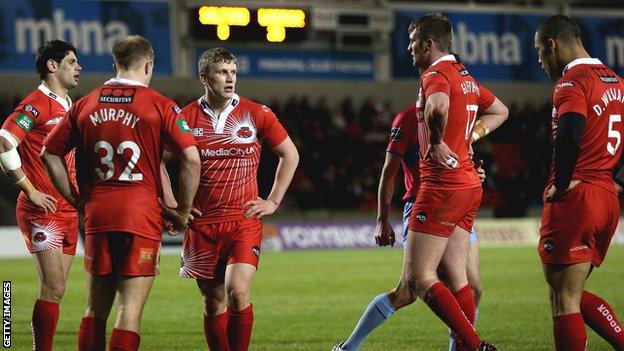 Salford City Reds have had two points deducted and been fined £5,000 for fielding an extra player during a Super League game against Castleford.
A Rugby Football League (RFL) tribunal increased the club's original punishment after rejecting their appeal on Friday.
Salford, who are now bottom, were given a £10,000 fine at a hearing on 8 May.
Darrell Griffin and his replacement Vic Mauro were both involved in tackles in the 77th minute of the 27 April match.
It meant that the City Reds, who won the televised game 34-30 to climb off the bottom of the table at the time, had 14 players on the field.
They were deemed to be in breach of three RFL rules.
"I'm very, very disappointed and I need to study the report from the independent body who issues the fine," Reds owner Dr Marwan Koukash told BBC World Service.
"The original fine of £10,000 was very heavy, it's almost a hundred times more than a similar club was fined a few years back.
"We made a mistake, it was not a deliberate mistake, so I couldn't understand why one club could be fined £100 and us be fined £10,000.
"To be told that they reduced the fine to £5,000, big deal. To be deducted two points, it doesn't make any sense.
"Why didn't they look at deducting points earlier on - are they trying to make an example of us?"
The punishment drops them one point behind London Broncos at the bottom of Super League.
The RFL investigated the case after Castleford lodged a formal complaint with chief executive Steve Gill claiming that three plays took place while Salford had an extra man on the pitch.
Warrington's former England coach Tony Smith had criticised the RFL for initially failing to dock the Reds points.
"I would hate to have lost that game because our opponents had an extra man out there," he said.
"I just think it sends out a poor message, that if you are prepared to pay for it then you can get away with it."