Brian Noble demands more from Salford City Reds squad
Last updated on .From the section Rugby League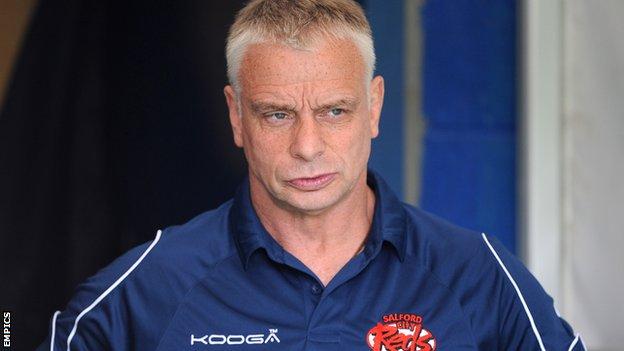 Salford City Reds head coach Brian Noble has challenged his players to improve their performances after a heavy home loss to Wakefield.
"I thought we would respond a lot better than we did, but we didn't and it is a recurring theme within the team," he told BBC Radio Manchester.
"We have to fix it to give themselves a chance to win."
He added: "I thought we would have competed a little bit better but they were a bit too big and too strong for us. It's another sore, salutary lesson of what we need to do."
Salford sit second bottom in Super League just a point above London Broncos with nine games left of the season.
Backed by multi-millionaire owner Dr Marwan Koukash, the Reds have promised changes to the playing squad next season and Noble believes that could be affecting some of the players' performances.
"There is an element of uncertainty around the place about individuals, but if I was uncertain about something I would be rolling my sleeves up and doing something about it," he added.
"You've got to keep some enthusiasm around this place as I think it will be wholly different next year for sure.
"There are a lot of things to do still, a lot of things off the field as well, and we need to compete better than we did.
"I'm not distracted and I'm not disheartened by the challenge ahead, but I would certainly like a heck of a lot more response than we got.
"I've got to look at myself as well and say 'Am I giving them the right messages?'
"Maybe I can be a bit more intense and thorough in practice, but I expected us to rock up a whole lot better.
"It hurts. I don't like losing. I just hope the players hurt as much as I do."