Tony Rea calls on London Broncos players to deliver
Last updated on .From the section Rugby League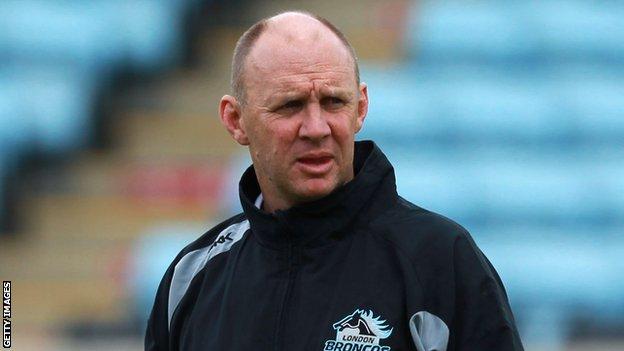 London Broncos head coach Tony Rea has warned his players that their futures in Super League are at stake.
The side are bottom of the table, having won three of their 18 games.
He told BBC London 94.9: "When people are given the shirt you get an opportunity for yourself, your club and your career.
"You get marked accordingly and have to rise to these things. If you want to play in a team at the top end of Super League you have to deliver."
He added: "We are a performance-driven business and you have got to perform. That's the bit you can't ever hide away from.
"If someone throws you a challenge you have got to meet it. If they give you an opportunity you have got to take it. That's how you get marked."
The Broncos have lost four of their last five Super League games and Rea described their 82-10 defeat to Warrington at Priestfield Stadium on Saturday as "very hurtful".
"I genuinely feel really sorry about the people who support the game in Kent and would have been looking forward to a spectacle on the Medway," he said.
"Unfortunately the reputation our game and our team left behind is not the one we wanted.
"There were some really bad sides to that performance and we have got to eyeball each other a bit now.
"We just didn't handle things in the contest which we had to. We lost our way, dropped out of the game and weren't focused.
"It is frustrating to see us unravel, which is exactly what Warrington wanted us to do.
"At the end of the day you've got to learn from it and pick yourself up, otherwise there won't be anything good to come out of it."