England coach Steve McNamara buzzing about the 'next big step'

Last updated on .From the section Rugby League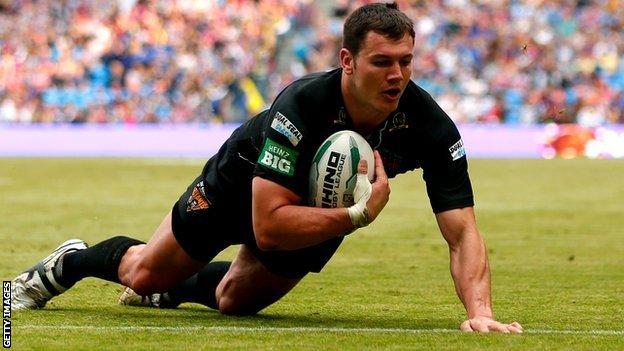 Steve McNamara says he is buzzing in World Cup year and believes he is assembling a squad of players capable of beating the very best.
The England coach this week announced his latest 20-man squad for the international Origin match against the Exiles, a match he describes as "the next step" towards his goal of World Cup success.
The headlines were the inclusion of Huddersfield forward Brett Ferres, and the exclusion of his Giants team-mate Danny Brough.
When McNamara talks about selecting on form, he means long-term form. A strong month in Super League will not propel a player into the international fold who has not been there before.
McNamara has a very clear idea about players he sees as international class and they have to then produce consistently strong displays to guarantee their inclusion. This would make it highly unlikely to see any shock names in the World Cup squad.
Ferres was highlighted by McNamara and his team at the start of the year as a player capable of forcing his way in and the coach admits the player has got himself in "at a really good time". The Giants forward has consistently been one of their best performers.
That Ferres puts his form, and that of the Giants pack, down to the dazzling displays of half-back Danny Brough makes the scrum-half's omission an even bigger talking point. On form - either short-term or long-term, the classy left-footer is one of Super League's finest. So there is clearly far more to it.
Brough appeared to get his retaliation in first on the eve of the squad announcement by revealing he would rather play for Scotland (for whom he also qualifies and has previously represented) after becoming tired of waiting to be picked.
When I spoke to McNamara about Brough his stance was strong and defiant, branding Brough's comments, and the timing of them "irrelevant".
I asked Steve to clarify the situation with Brough, and whether his England career was effectively over before it even started - his one appearance in an unofficial international meaning he can still revert to Scotland.
"You will have to clarify that with Danny" he said. "You'll need to ask him what his plans are, but I only want players who are 100% committed to what we are doing."
So, would he have been selected on form if he had been totally committed, and not instead pledged to play for Scotland? "That's an irrelevant question. It seems he's not convinced what he wants to do but good luck to him on whatever he decides."
Brough clearly knew he was not in the squad before he made his comments and I would be hugely surprised if he did play for England again.
McNamara has a very strong and defined idea of what he wants from his set-up. He also has very thick skin. The former Bradford boss talks often about a "two-squad" system and a "two-team mentality" in looking to assemble a pool of players good enough to fill two international teams.
"What I want, and what shows our depth is to have good players in good form who don't make it. The more disappointed players and club coaches I have, the better shape we are in. I have spoken to all of our elite group to tell the players whether they are in or not. I speak to coaches who question why their players aren't included. If I had the mid-season Knights fixture like last year I would have had two very exciting squads."
There are always dissenting voices. It is the nature of being a national manager.
Fans of Hull FC and Huddersfield feel their hookers Danny Houghton and Shaun Lunt deserve recognition. They are probably right. But McNamara can only name 20 players for this game, of which 17 will feature. He was only ever likely to name one natural hooker given the versatility of Rob Burrow, and even captain Kevin Sinfield, and a fit-again James Roby is likely to be his starting '9' for the World Cup. "I want to leave good players out. I want to have disappointed players."
I ask McNamara what the fans will think of his squad. "I'm not fussed. I've not given any thought to what the fans think. Why should I? Every club has fans who think their best players should be in. I have trust in these players and their consistency. It's about trust between me and the players - the fans can judge me how they want. I know none of the players that I select will let me down."
So with a host of Australia-based internationals including the Burgess brothers poised to be added to the mix ahead of the World Cup, how many names does the coach have on his World Cup squad list already?
"That's an irrelevant question and I'm not going to let you tie me in knots. There is too long to go, too much can change, and I must expect to have injuries. It would be a pointless exercise to discuss that.
"It is not about counting the days until the World Cup" he says.
"We are still building. We are not there yet."
ENGLAND SQUAD TO FACE EXILES
Rob Burrow (Leeds Rhinos), Josh Charnley (Wigan Warriors), Rangi Chase (Castleford Tigers), Eorl Crabtree (Huddersfield Giants), Leroy Cudjoe (Huddersfield Giants), Gareth Ellis (Hull FC), Liam Farrell (Wigan Warriors), Brett Ferres (Huddersfield Giants), Ryan Hall (Leeds Rhinos), Zak Hardaker (Leeds Rhinos), Chris Hill (Warrington Wolves), Jamie Jones-Buchanan (Leeds Rhinos), Adrian Morley (Warrington Wolves), Lee Mossop (Wigan Warriors), Richie Myler (Warrington Wolves), Sean O'Loughlin (Wigan Warriors), James Roby (St Helens), Kevin Sinfield (Leeds Rhinos), Sam Tomkins (Wigan Warriors), Ben Westwood (Warrington Wolves)