Salford City Reds close to six signings - Dr Marwan Koukash
Last updated on .From the section Rugby League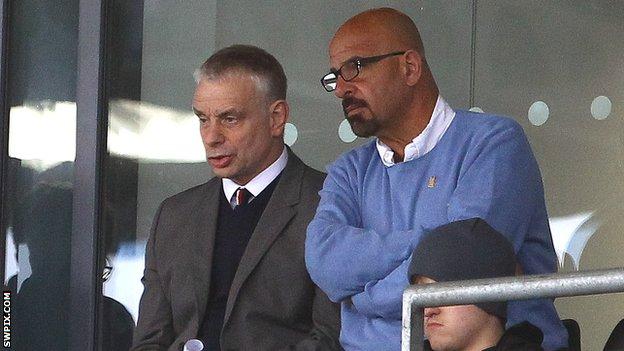 Salford City Reds are "very close" to six new signings for the 2014 season, owner Dr Marwan Koukash has revealed.
Koukash has promised significant investment in the team since completing his takeover of the club in January.
but Koukash is certain the Reds will be much more competitive next term.
"Next year, with the team we will have, it will be hell for other teams to face us. We will have a lot of fun next year," he told BBC Radio Manchester.
A number of high-profile players - including England trio Sam Tomkins, Adrian Morley and Rangi Chase - were linked with Salford shortly after Koukash's arrival as he spoke of his desire to make the Reds a major force in domestic rugby league.
Head coach Brian Noble, who was appointed in April, but is keen to give a fair chance to those currently at the club and to the players who endured a turbulent winter as Salford battled to avoid administration.
"My last month has been to do that - to look at people, to give opportunities and turn things around," said Noble.
"I'm quite prepared to accept anybody who is prepared to have a dig and show that they want to be here."
Another change that Koukash is planning for 2014 is the name of the club.
"It's not a new name that we're giving the club. It's our original name, it's our heritage," he said. "The name was changed some years ago and we're just going to go back to our original name."