Wakefield's Richard Mathers suffers ruptured testicle
Last updated on .From the section Rugby League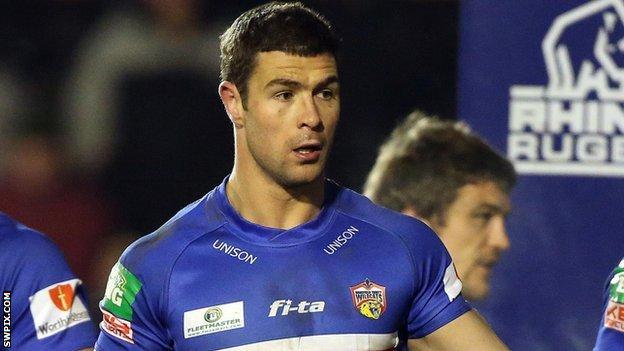 Wakefield full-back Richard Mathers has had emergency surgery after suffering a ruptured testicle in the defeat by Wigan on Sunday.
The 29-year-old underwent surgery at St James's hospital in Leeds on Monday.
He told BBC Radio Leeds: "I got a knee flush on my right testicle in the first carry of the game.
"I got a foot injury later in the game and it wasn't until I got in the shower on Monday morning that I noticed there was a lot of swelling."
He added: "I can't thank the club doctor enough. My main concern was my foot but as soon as I asked him to examine my testicle he told me priorities had changed.
"I had an ultrasound and then the surgeon told me there was a good chance that I was going to have to have it removed.
"You don't expect something this serious to happen. I've had two knee reconstructions and you expect cuts and bruises but to potentially lose a testicle is life changing.
"When I first woke up after surgery my first question was 'have I got one or two?'
"I've got to have complete rest for the next two weeks. The doctor said he'd never seen such trauma in that area."
Mathers is the second Super League player to suffer the injury in the last six months.
Warrington prop Paul Wood had to have a testicle removed after sustaining the same injury in his side's Grand Final defeat by Leeds in October.
The duo played together for the Wolves and Mathers said he had already spoken to his former teammate.
"I'm good friends with him, I was luckier than him because he lost his.
"He's already been on the phone and text me and I'm going to have a guard made like the one he plays in.
"Given the amount of collisions we have it is surprising that there aren't many more injuries like this one."