Stefan Ratchford: No Salford approach for Warrington man
Last updated on .From the section Rugby League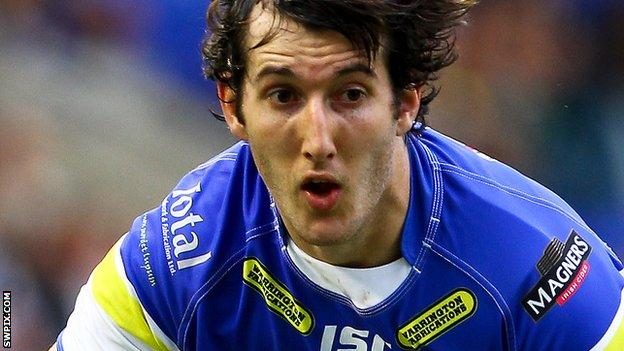 Stefan Ratchford has denied having any contact from Salford regarding a move back to his former side.
The England international
New Salford owner Dr Marwan Koukash has and has also stated he wants to "bring our boys back".
"He's not rung me, he's not rung Warrington and he's not rung my agent so he must have crossed me off that list," joked Ratchford.
Koukash's comment prompted speculation that Ratchford might be on the list of players he is looking to recruit.
And the 24-year-old, who insisted he is happy at Warrington, told BBC Radio Merseyside: "It's all going on there at the moment.
"Last year there wasn't going to be a Salford, and now the owners are asking for a higher salary cap and they can pay whatever they want.
"I'm a regular at the stadium watching the games. I signed for the club from school so it's always going to have a place for me."
Salford, who are bottom of Super League and on 3 March, have had approaches for England trio Adrian Morley, Rangi Chase and rejected by their clubs.
In his programme notes prior to Friday's defeat by London, Koukash wrote: "I don't know why people are ridiculing us for going for the best talent out there. We are the sleeping giants of the game and we have the finance in place to be able to bring the best in the world here.
"We are no longer here just to take part in Super League. We are here to ultimately win it.
"In the past, clubs have taken advantage of Salford's financial predicament to take our best players away from us. Well no more. I intend to bring our boys back and the finance is in place to pay them."
Meanwhile, Ratchford, who was on Tuesday, has been starting at stand-off for Warrington in recent matches in the absence of the injured Lee Briers.
His ability to perform well in a number of positions has made him a key member of Tony Smith's Wolves squad and Ratchford is prepared to flexible to be a success at both club and international level.
"You've got to take the opportunity when it comes," he added. "It's unfortunate that we're missing Lee at the moment [with a neck injury] because he's a massive player for the team.
"As much as you want to say 'this is my position', sometimes it does change.
"I really enjoyed playing at full-back last year and I was fortunate enough to play for England against the Exiles at full-back.
"(But) If I just say I'm a stand-off, that's probably limiting my opportunities. If I can keep that tag of being able to play a couple of positions, that might help me out."