Leeds & Wakefield coaches welcome new RFL rule changes
Last updated on .From the section Rugby League38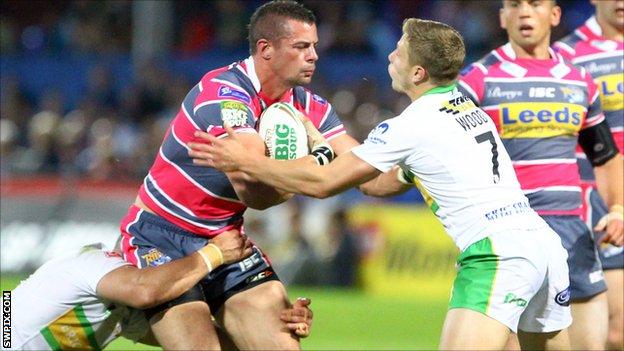 Leeds Rhinos coach Brian McDermott and Wakefield's Richard Agar believe experimental rule changes tested in their friendly fixture were a success.
They trialled the Rugby Football League's proposed changes on Wednesday.
Teams with scrum-head and feed have the option to leave the loose forward out of the pack to create an extra man.
Charge-downs do not result in a reset of the tackle count, while if the ball is kicked dead from a team's own half, the opposition receive a 40-metre tap.
Leeds won the Boxing Day encounter at Headingley 40-26, but Wakefield were able to utilise one of the new rules to score a try.
The Wildcats were given the advantage to play on following a handling error by Leeds, and Danny Cowling's speculative kick, following a loss of possession by Leeds, set up a score for full-back Richard Mathers.
"It's a free shot and a terrific example of how it's going to work," Agar said. "It's a rule I feel should be a positive one.
"It could get messy sometimes, with play coming back 50 or 60 metres and slowing the game up, but in terms of trying things and producing more attacking rugby, we should give it a go.
"Rugby league has always been a sport that is not afraid to put its neck on the line and be a bit innovative. I'm all for that."
Leeds coach McDermott added: "I like the new rules. The punishment for a charge-down if it doesn't come off has always been heavily weighted towards the team with the ball."
However, Agar was unhappy to only be informed of the trial a few days before the match, claiming his side were not given enough time to prepare for the rule changes by the RFL.
The rules were also trialled in the friendly match between Batley Bulldogs and Dewsbury Rams.