Sheffield Eagles consider Super League application
Last updated on .From the section Rugby League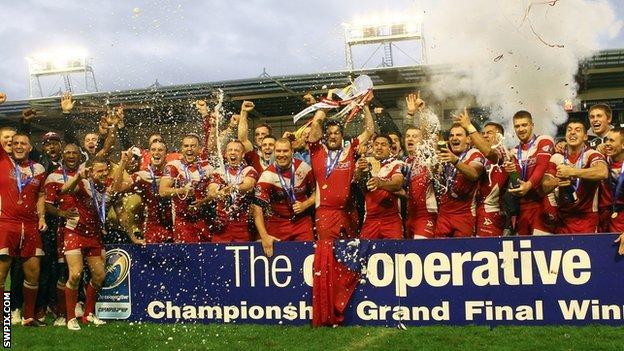 Sheffield Eagles chairman Ian Swire says the club are considering putting forward an application for a Super League licence.
"We're looking seriously at doing it because Sunday's win has given us a huge amount of credibility," he told BBC Radio Sheffield.
"We've got the team on the field who we feel can compete in the Super League but we need to build a fan base."
He added: "We don't want to just be there as a passenger - we want to be competitive and we're not quite there yet but we hope to be in two years time."
It is 13 years since the Eagles merged with Huddersfield Giants and were forced to start again in the Northern Ford Premiership after reforming.
But Swire was delighted with how the side have battled against adversity.
"It meant the world to us because we've proved a lot of people wrong," he continued.
"It's been a long 13 years and we've built slowly. We have a smaller playing budget than many other teams at this level.
"Mark Aston has been coach for the whole period, he must be one of the longest serving coaches in the country, and players want to come here to play under him."