Coventry Bears: Midlands amateur side targeted as semi-pro club
Last updated on .From the section Rugby League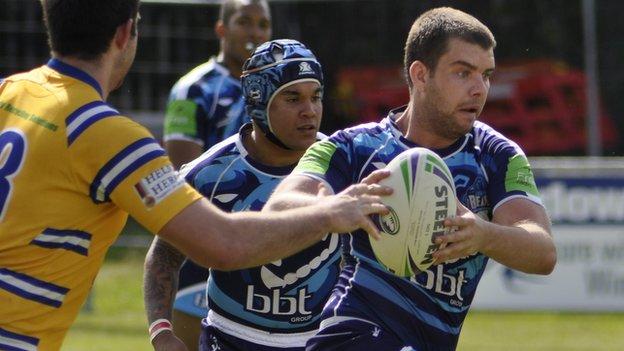 Midlands amateur side Coventry Bears have been earmarked for a place in rugby league's semi-professional ranks.
The Rugby Football League is in talks with the club, who only came into being 14 years ago, about being admitted to a restructured Championship One in 2014.
Coventry had been considered for entry in 2013 alongside Hemel Stags, University of Gloucestershire All Golds and latest new boys Oxford.
But they have now been given another 12 months to prepare for the move.
As a consequence, Championship One will operate as a nine-club competition next season.
RFL chief operating officer Ralph Rimmer said: "The Bears have made significant strides in the last few years, as their presence in this weekend's Conference 3 play-offs testify.
"But our view is that it is too soon for them to make the transition into Championship One next season."
The Championship will remain at 14 clubs as planned next season, with a nine-team Championship One comprising Oldham, Rochdale Hornets, Gateshead Thunder, London Skolars, South Wales Scorpions, North Wales Crusaders, Hemel Stags, Oxford Rugby League and University Of Gloucestershire All Golds.