Tony Rea replaces Rob Powell as London Broncos coach
Last updated on .From the section Rugby League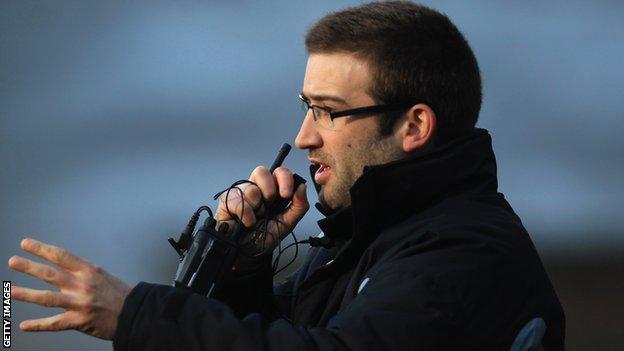 Rob Powell has been relieved of his duties as head coach of London Broncos and replaced by Tony Rea.
Powell, who joined the Broncos as assistant coach in 2007 but took the top job for the start of the 2011 season, will remain at the club.
The Twickenham Stoop outfit sit bottom of the Super League after winning just three of their 20 games.
Rea spent five and a half years as Broncos coach in the 2000s and has also served as the club's chief executive.
He will serve as interim head coach, with a new man to be appointed for the start of the 2013 season.
"We had to make changes because our performances were unacceptable," Broncos chairman David Hughes said.
"This is a result of our mid-season internal review with other findings due to be concluded soon.
"We are advertising for a new head coach, both in the UK and worldwide, with a view to him being in place for pre-season [at the start of November]."
"Rob is still part of the team and we hope he will work with Tony for the remainder of the season. He will have a job with the club going forward in some capacity, obviously his specific role will be dependant on the new head coach."
Rea has had a long association with the London franchise, having first arrived at the club as a player in December 1994.
He made 47 appearance at hooker for the Broncos before retiring to become chief executive.
He then became head coach at the end of the 2000 season but was replaced by Brian McDermott in July 2006, joining the board of directors.
And Rea eventually left the club a year later to join the coaching staff of the Brumbies rugby union side in Australia.
"I always check the Broncos' results," Rea told the London club's website. "Being down in Australia there are a lot of ex-players.
"The network's still strong here and we spend a fair bit of time ringing each other and talking about the club.
"I want to get people to enjoy playing again. It's not about tactics, coaching or structure but belief and morale, making sure people re-connect.
"Knowing the people who support the club I want to validate their decision and help get them to be the club they want to be and Rob will be included in that."
Hughes added: "I've had regular contact with Tony and he feels for the club.
"I'm pleased that he has been able to come over and help us out at this time."