Mick Potter back as Bradford boss in voluntary capacity
Last updated on .From the section Rugby League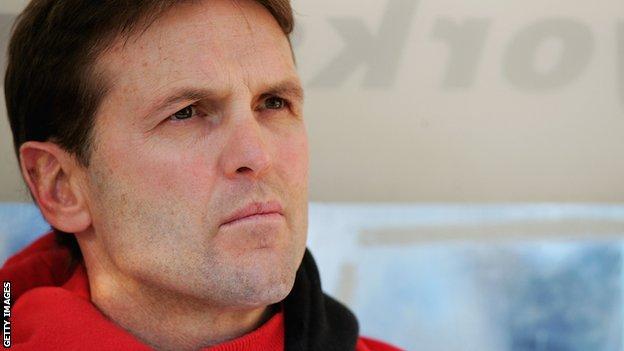 Mick Potter has returned as head coach to crisis club Bradford Bulls in a voluntary capacity.
He initially declined a request to stay as head coach for free but now says he feels "obliged to do something".
His appointment came after the Rugby Football League revealed that Bradford Bulls' administrators have been contacted by potential investors.
Potter said he only decided to return to the club after meeting the players on Tuesday evening.
"It was the feeling from the players at a social gathering we went to," he said.
"The players were pretty down and needed somebody to help them put the game on this weekend. There was a lot of heated feeling and mixed emotions.
"They just wanted some guidance. I want the Bulls to be successful and we decided to play a small part in getting the game on."
Potter said the club's conditioner Geoff Evans has also offered his services, along with coaching assistants Francis Cummins and Lee St Hilaire, for Sunday's game against London Broncos.
"It probably won't be quite as normal but it's about continuity and getting a bit of stability, even if it's only for one more week," he added.
"We want go back to what we do well and then we'll probably go back to where we were.
"Hopefully the club can find an investor who would be acceptable to the RFL."
Administrator Brendan Guilfoyle said last week that the Bulls needed to find a buyer within 10 days or face liquidation.
"We believe that the administrator has been in contact with prospective purchasers," RFL director of standards and licensing Blake Solly told BBC Radio Leeds.
"A couple have spoken to us as well and that's very positive."
But he added: "There's still a long way to go, nobody here is kidding themselves about that."
Guilfoyle made the whole of the club's coaching staff redundant on Monday and cancelled a meeting with players on Tuesday at short notice, leaving joint captain Matt Diskin saying the squad felt "disrespected".
The Bulls brought back Gary Tasker as chief executive and former coach Brian Noble said on Tuesday that he had been asked to run the side on a short-term basis, but the role has now been given to Potter.
Meanwhile, Solly was unable to confirm whether the Bulls would be able to continue in Super League following any buy-out.
"There can be a good long-term future for Bradford Bulls. The last week has shown the passion that the fans have for the club," he said.
"Depending on the business plan of whoever comes in, the RFL board will have to consider whether the club should be given Super League membership and part of that will involve consultations with the other clubs in the league."
A meeting has been called for Friday where the RFL will discuss the current situation at the Odsal club with the other 13 teams in Super League.
Bradford, who are four-time Super League winners, are currently eighth in the table but are yet to receive a points deduction for entering administration.