Bradford Bulls make coaching staff redundant
Last updated on .From the section Rugby League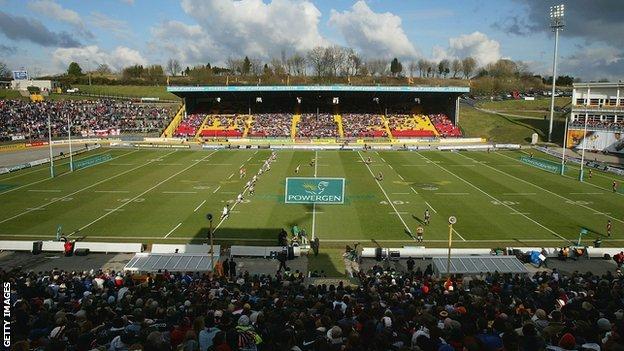 Bradford Bulls have made their entire coaching staff redundant as they look to find a way out of administration.
Joint-administrator Brendan Guilfoyle has confirmed that 16 members of staff, including coach Mick Potter, have been removed from their positions.
"I was left with no alternative but to make these redundancies," Guilfoyle told BBC Radio Leeds.
"I'm hoping to put some interim measure in place to ensure that the club can continue to fulfil their fixtures."
Along with the coaching staff, chief executive Ryan Duckett and football manager Stuart Duffy have also lost their jobs.
Guilfoyle, who claimed the club had just 10 working days to save themselves from "extinction" upon going into administration last Tuesday, is now looking for someone who would be willing to take on the job of coaching the Super League side on an unpaid basis.
"I'm hoping to find someone to come in for the short-term who would be willing to work for nothing," he continued.
"The attitude of all the staff was absolutely magnificent given the circumstances and I really hope I can find a backer and who knows they could come back.
"There is a huge good will for this club from everyone within rugby league so I just hope we can pull everything together and find someone who can purchase it."
The Rugby Football League said in a statement that it was unhappy with the latest developments at Odsal.
"We are concerned by the news that the official administrator of Bradford Bulls has made all the club's non-playing staff redundant.
"The governing body received no official notification of this action and is meeting the administrator Brendan Guilfoyle this afternoon to seek an explanation and clarification.
"The RFL is continuing to establish the facts behind this development and will not be making any further comment until we have spoken to all the parties involved."
On the pitch, Bradford recorded a stunning 30-22 victory at league leaders Wigan Warriors on Friday and after the game Potter said he was confident that the club could be saved.
"Until I'm told otherwise I will be preparing for the London game next Sunday as per our programme," he told BBC Radio Leeds.
"I'm hopeful that there is someone out there to take the club on. They just need to come to the table."
Bulls centre Chev Walker tweeted: "From a massive high on Friday night to a massive slump this morning. Valuable staff members have been shown the door. It's a tragic day!!"
Bradford shocked the rugby league world in March when they announced they needed to find £1m to stay afloat.
After raising their initial target of £500,000 through a variety of fundraising initiatives, further investment did not materialise and the five-time Challenge Cup winners went into administration.