Bradford Bulls can finish season - even if liquidated
Last updated on .From the section Rugby League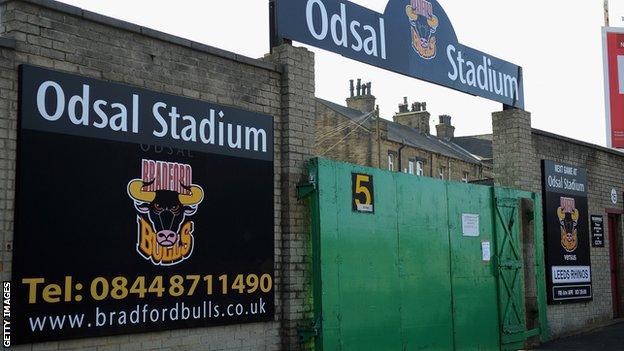 Super League bosses will allow Bradford Bulls to finish the season as a new company even if the club goes into liquidation in the coming weeks.
This would avoid a scenario in which results from this year have to be expunged due to the club folding.
The club's licence would then be reviewed at the end of the season.
A Rugby Football League spokesman said: "We are working with the administrators to help Bradford Bulls out of administration."
The four-time Super League champions are ninth in the table with nine games left to play in the regular season.
Administrators have warned that the club faces "extinction" if a buyer is not found within nine days.
But even if the company is liquidated, it is understood the RFL would be happy for a new team under the name "Bradford Bulls" to carry on the 2012 campaign under new ownership such as a supporters' trust.
The governing body would review the situation again at the end of the season and have the power to revoke Bradford Bulls's license to be in Super League until 2014.
The Bulls announced in March they needed £1m to stay afloat. Former acting chairman Stephen Coulby has said the worsening financial situation was putting potential investors off.
And former Bradford forward Stuart Fielden told BBC Radio Leeds that he did not believe a new buyer would be found.
"Who's going to buy a company that is in debt by £1.7m and also at the same time doesn't make a profit?" he said.
"Even with the players, realistically there are only two of them who are going to be sold. Everyone wants the Bulls to stay up but it doesn't look like it's going to happen and that's an absolute tragedy."
Having asked supporters to pledge £100 and carrying out a number of fundraising activities, the Bulls were able to raise their initial target of £500,000. Attempts to pull in further investments were unsuccessful though.
Fielden, who won the Super League title three times with the Bulls, said it was a "joke" that the club still needed more money to survive.
He said: "Leon Pryce gave his 2003 Grand Final-winning shirt and his Grand Final ring [to raise money to help the club stay afloat] and I gave my 2005 ones.
"These are items you would have passed on to your kids and I was gutted to give it away, but you accept that when you offer to do it, and it raised some money.
"I feel more for everybody else as some people have given absolutely everything. Times are hard, it's austerity and people are struggling to pay the bills but the Bradford community, the league community as a whole, dug into their pockets."