Salford City Reds winger Danny Williams signs new two-year deal
Last updated on .From the section Rugby League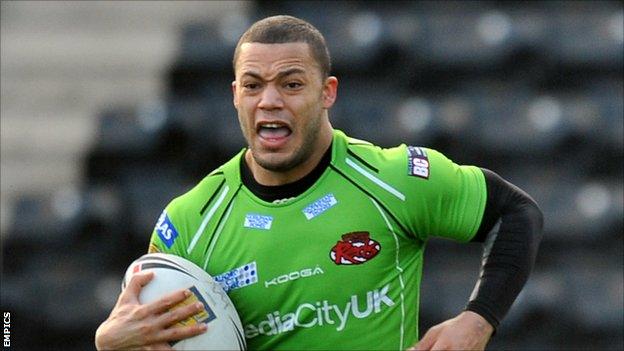 Danny Williams has signed a new two-year contract with Salford City Reds.
And Williams told BBC Radio Manchester that the attacking style Salford are currently employing was one of the main reasons for his decision to stay.
"Everybody likes to watch exciting rugby and hopefully that's what we're providing for the fans," he said.
"(Assistant coach) Sean Long has been a big part of our attacking game this season. With Daniel Holdsworth and Matty Smith, we've got some quality players.
"And the centres, Joel Moon and Sean Gleeson, have been awesome for us this season."
The news of a new deal for Williams is a boost for Salford, who face losing full-back Luke Patten and half-back Smith at the end of the year.
"Every team loses quality players," added Williams. "I wouldn't say it's damaging but we've got to focus on what we have got.
"We've got a strong base of players and the coaches will do what they can do to bring fresh faces in.
"Salford is a great club and I love it, so there was no hesitation for me (to sign a new contract)."