Iestyn Harris keen to keep Challenge Cup tradition
Last updated on .From the section Rugby League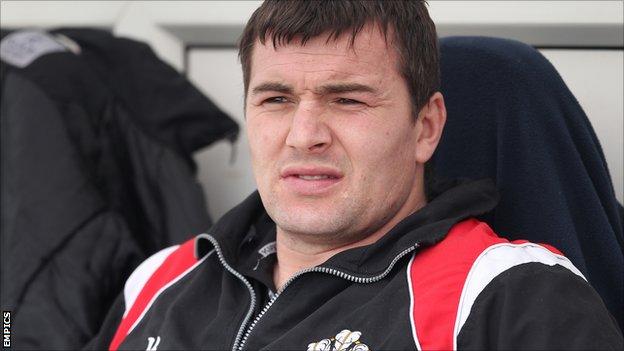 Iestyn Harris said he would be disappointed to see lower-level clubs prevented from playing Super League opposition in the Challenge Cup.
"I'm sure that the Crusaders players have gained so much experience playing against the Wigan players," Harris told BBC Radio Manchester.
"There's nothing wrong with having these contests in the early rounds."
However despite Featherstone's surprise fourth-round win over Castleford on Saturday, Harris acknowledged upsets are becoming increasingly unlikely in the competition.
The former Leeds star, who was head coach of Crusaders last season, continued: "It's not like football where a non-league side can play against a Premier League side and their physicality isn't that much different.
"With rugby league our guys are full-time, they train seven days a week, they have big pre-seasons and they look big and athletic.
"When you looked at the difference in size between the two teams, there was only ever going to be one outcome."
Wigan, the current Challenge Cup holders, will face Featherstone in the fifth round of the competition on the weekend of 27-29 April.